Search for 1924 Gold Medal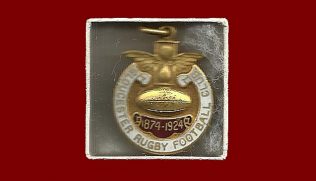 In 1924 Gloucester celebrated the 50th anniversary of the Club with a match against a side put together by the President of the Rugby Union, Capt W S Donne, containing seven internationals. An exciting game was finally won by Gloucester snatching victory 11-9 on the stroke of time. Tom Voyce was the newly elected captain of Gloucester, and scored a try. A banquet was then held at which many former players were reunited.
As a memento of the occasion, the players of both teams were presented with a gold medal by Dr Arnold Alcock, in his first year as President of the Club.
We have never seen one of these medals, and have only this poor photograph of one. Do any of you have one, or know where one can be seen?
If you can help, please contact us through this website or e-mail us at info@gloucesterrugbyheritage.org.uk.