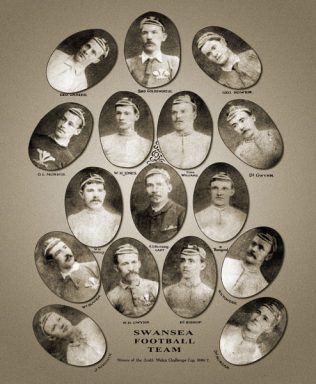 This was the second ever fixture between these two clubs and the first Gloucester visit to St Helens ground, Swansea. The first match between the two was played at Gloucester (The Spa) on 30 October 1886 (Swansea win by 2 tries). Swansea were holders of the South Wales Challenge Cup (for the 2nd time) this season, having won the final on 6 March.
Venue:  Swansea (St Helens)
Score:  Swansea won. Swansea: 2 Goals, 1 try & 2 minors, Gloucester: 1 drop Goal.
Swansea team –
"back" E Thorogood. "three quarter backs" G Bowen, W H Jones, E Reid [E Reed], E Bishop. "half backs" W H Gwynn, George James. "forwards" E S Richards, D Morgan, C Williams, G L Morris, W H Howells, J Meredith, W H Cronin, T Orrin.
Gloucester Team –
"back" J Oswell, "three quarter backs" H E Taylor, G Hughes, G Coates. "half backs" T Bagwell, A Ball. "forwards" T Smith, Sanders, H Broughton, C Bevan, H Sloman, T Taylor, Ellis, W Fream, R George.
Match Report
(Cambrian – 25th Mar 1887 –P3)
"Football – Swansea v Gloucester.
This important match was played at Swansea on Saturday, and ended in a victory for the home team by two converted goals, one try and two minors to one drop goal scored by Gloucester. It was evident the visitors intended to strain every nerve in order to defeat Swansea, the holders of the South Wales Challenge Cup. In the first half Gloucester played a splendid all-round game, and had rather the better of our men, but failed completely to cross the goal line. Oswell the full back dropped a splendid goal and this was the only point scored during the first forty minutes.
In the second portion of the contest Swansea warmed to their work and altered the aspect of the game, although their opponents offered a stubborn resistance. For a time Gloucester were a goal ahead until George James crossed over and obtained a try which W H Jones converted. Both sides were now equal according to the system of scoring in friendly matches. The visitors did their utmost to prevent Swansea adding to their score. The "ups" of both sides fought stubbornly in neutral ground, and then the home team got into the Gloucester quarters. Bagwell, Hughes and Ball played a capital defensive game. At last C Williams literally forced his way through the Gloucester men and got over the goal line, but he fell with some of his opponents. A maul in goal ensued, but Williams managed to secure a try, which was not converted, the angle being very difficult. Swansea were now one try ahead, and the game became fast and loose, both sides trying hard to score. George Bowen now ran straight ahead and got a try which W H Jones converted. Nothing of note was scored after this."