Gloucester v. Services Teams in WW2.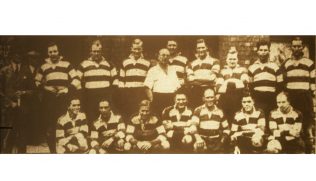 Following the outbreak of the Second World War, the war effort was much better organised than it had been for the Great War. Conscription and reserved occupations were immediately introduced, unlike the volunteering of 1914. Whereas the playing of rugby, and other entertainments, were seen as unpatriotic then, in 1939 everyone was in the position of being called up when required, so there was not the same stigma attached to being out of uniform. Even so the immediate knee-jerk reaction was to suspend matches on the outbreak of war, as they had been during the Great War, but this was rescinded within six days and matches were then actively encouraged. However, there were some restrictions, notably to limit the size of crowds and to ensure an even dispersal of spectators around the ground in order to limit the loss of life in the event of an aerial attack by the enemy. There were other restrictions on the facilities available at Kingsholm because the Civil Defence authority used parts of the ground. And players regularly became unavailable as they were called up for military duties, but on the other hand servicemen posted to the vicinity supplemented numbers.
The Gloucester Club soon announced that it had organised a reduced fixture list with some matches against other clubs, and others against military teams. It is these latter matches which are recorded below.