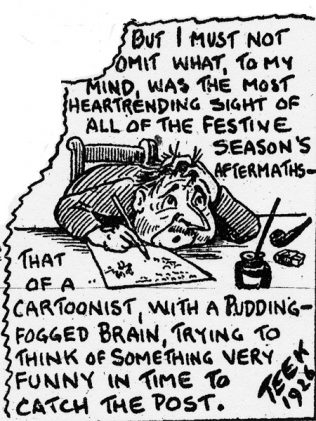 We are still researching this, but he provided very detailed, perceptive and humorous Gloucester rugby cartoons for The Citizen Sports Edition from at least as early as 1922, right through to the end of 1929. However, the last cartoon in our collection, dated 18 Jan 1930, was drawn not by TEEK, but by Wally Fellows.
Through studying the cartoons which have come our way, it becomes clear that he routinely attended the matches at Kingsholm, whether it was the first team or Gloucester A which was playing, but apparently never went to the away matches. He had an excellent knowledge of the Gloucester teams, and clearly enjoyed poking fun at individual team members – which might suggest that he was on good terms with them. He routinely lampooned the ref or the touch judges.
At matches he took a seat in the Kingsholm Press Box, which implies that he was there in something of an official capacity, alongside Bill Bailey, the Citizen's famous "W.B" match reporter.
During the match he must have made notes and preparatory sketches, and afterwards he hurried away to complete his cartoon, in order to "catch the post" – which clearly shows that he didn't work in the offices of The Citizen, but far enough away to have to rely upon the post to get his work to them in time for publication.
On more than one occasion he drew a caricature of himself (see one of them, above) which shows that he was perhaps middle-aged, had a thin moustache, a pointy nose, was right-handed, and smoked a pipe. In other sketches he shows himself wearing a tweed suit, or a high-collared overcoat and trilby – hardly  identifying characteristics.
He was very well acquainted with the visiting Welsh teams, and knew the words of Sospan Fach, referring to Mari-Ann, who features in this nonsense song, in one of his cartoons.
All of which takes us no closer to identifying him: does anybody out there have any further information? TEEK deserves to be celebrated.
Subsequently, we've been sent this very thorough piece of research into Henry Comer Teek of the Axbridge area and latterly Weston. Our contributor is convinced that he's found our "TEEK", although we'd still like to find a solid link with Gloucester Rugby.