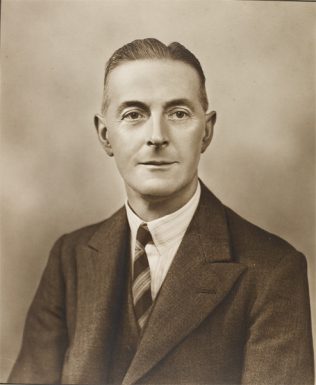 By Malc King
John T Brookes never played rugby, but he was an enthusiast for the game, who gave the Club the benefit of his managerial skills, which developed as Works Manager at the Gloucester Railway Carriage & Wagon Works Ltd. He was first elected onto the Club committee in 1906, but first came to prominence in the administration of the Club as Secretary, and as a Trustee of the Club when, in 1916, he purchased shares in the Ground Company – he then became a Director of the Company as one of the two Club representatives on the Board, and a Vice-President of the Club.
In 1922 he was elected Chairman of the Club, and formed a formidable partnership with the Club Secretary, Arthur Hudson, which exerted a tight control over the finances of the Club for 17 years. John set the policies which ensured that the Club continued to develop whilst avoiding debt, and Arthur kept a tight control on expenditure.
During the 1920s, John established a policy under which the Club purchased many of the shares in the Ground Company, and thus secured the Club's control of their ground. This set the basis on which the Club could confidently embark on further development of the ground with both stands and terraces.
The Club suffered terrible tragedies when two players, Sid Brown and Stan Bayliss, died in successive seasons in the mid-1920s, as a result of injuries sustained whilst playing for the Club at Kingsholm. There was another major setback in 1933, when the main stand built only 7 years previously, burnt down, but an emergency recovery plan resulted in a new and better stand being opened within a few months (which remained in place until 2007). John's competent and careful hand on the tiller was important in ensuring that the Club continued to prosper through these difficult times.
He also served on the committee of the Gloucestershire Rugby Union for many years before being elected President in 1937, the sixth representative of the Gloucester Club to be so honoured. He was also the auditor of the County Bowling Association.
John was regarded as an exemplar of the qualities required of a Chairman – he combined a collective management approach with business acumen, a rational and careful approach, and a personable character. When he died suddenly of pneumonia in 1939, the tributes to him spoke of "a man of character and integrity" and " a happy and hearty comrade", and registered his long and unstinting sense of service to the Club.
WB of the Citizen recorded that "of the many officials of the Gloucester Club with whom I have been intimately acquainted, no one was held in higher esteem than "Genial John", a firm friend, keen lover of rugby, splendid administrator, and popular with everyone … A loveable character, Mr Brookes enjoyed a joke even against himself, and he was always good company on
away matches, never forgetting to supply himself with a bag of peppermints to dispense to members of the party."