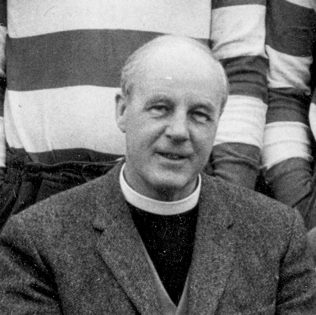 Mervyn Hughes joined Gloucester in 1937 when on appointment as deacon to St Catherines. He played regularly for Gloucester and Gloucestershire during the years leading to WWII.
After the war Canon Hughes maintained his association with the club and joined the Committee. He was elected Chairman in 1949, holding the position for twenty two years.
He presided over the club during the turbulent years leading up to the introduction of the professional game. During that period sponsorship revenue increased hugely and the first hospitality boxes were built at Kingsholm in 1991. Hughes, a staunch advocate of the amateur game, may have viewed this with concern, while recognising the need for the club to maintain its position amongst the leading clubs in the country. He retired as President in 1995.