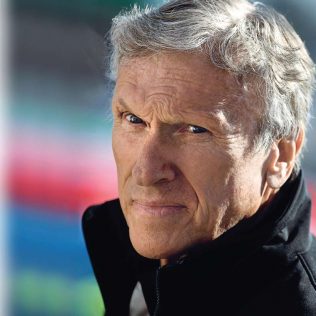 The son of a Scottish Farmer, Tom Walkinshaw made his name in motorsport, establishing Tom Walkinshaw Racing (TWR) in 1976. In 1983 his team took an amazing eleven consecutive wins in the 'British Touring Car Championship' British Saloon Car Championship and won the European Touring Car Championship in 1984.
In 1991 Tom was recruited as Engineering Director of the Benetton F1 team which subsequently won the 1994 Formula One World Championship. In 1995 he became the owner of the Arrows team and was voted Autocar Man of the Year in 1997.
A big rugby fan he would make the trip from his home in Oxfordshire to Kingsholm whenever he could with his family to support Gloucester.
Rugby Union turned professional in 1996 and brought new challenges for Gloucester. Invited by the club, Tom became club chairman in 1997 and set about ensuring that the club maintained its position as one of the top clubs in the country. The club going on to win the Zurich Championship in 2002, 2003 Powergen Cup and the 2006 European Challenge Cup.
Tom was also instrumental in the biggest development in the club's history, the construction of the South Stand in 2007.
Tom's role within rugby reached beyond Kingsholm as he also served as Chairman of Premier Rugby. His leadership within this role is credited as helping to produce an English League recognised as one of the best in the world. His passion and vision ensured that contractual agreements were agreed with the RFU. These forming the basis for use of players between club and country and a commercial structure that created a vehicle for the healthy progression of English Rugby. A contributing factor to the success of England Rugby as world champions in 2003 and finalists in 2007.
An inspirational Chairman, Tom would also advocate the wider role of Gloucester Rugby in the community, adding his support to many children's and local charities.