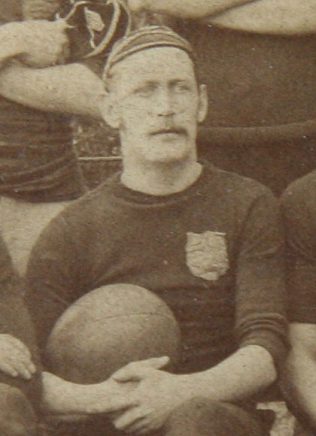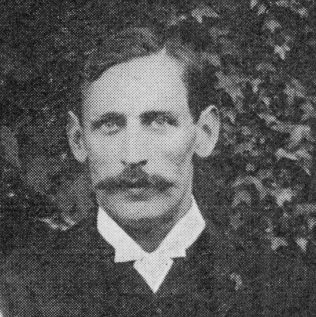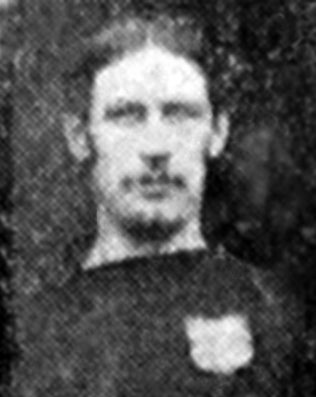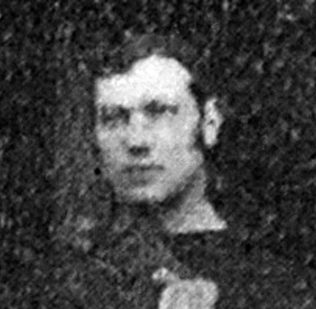 The BOUGHTON Family – brothers John Boughton, William Albert Boughton and Hubert James ('Jimmy') Boughton.
The Boughton brothers were the sons of John Boughton (1819-1861) and Elizabeth Boughton (née Cadle) (1818-1889). Their father, John, was a Farmer and proprietor of Adsett Court at Westbury-on-Severn. The couple married on 11 May 1848 at the church of St. Mary, St. Peter and St. Paul at Westbury and had eight children, two of whom died in infancy. The family initially lived at Adsett Court but after the death of John Boughton in 1861 the family moved to Brunswick Square in Gloucester.
John Boughton, the eldest son of the Boughton family who survived into adulthood, was born in 1852 at Westbury-on-Severn.  By 1871 he was articled to a Timber Merchant in Gloucester. John, a forward, was a founder member of the Gloucester Rugby Club in 1873 and played 3 games for the Gloucester First XV in the inaugural 1873-74 season. John like his brothers William and Hubert Boughton also played cricket for Gloucester Cricket Club. One of the last games that he played was on August Bank Holiday Monday 1879 defeating Cheltenham where he outshone his two brothers and scored 54 runs out of a total of 178 runs. Shortly after that he moved to Boston, Massachusetts in the United States of America. He died at East Boston after only a few years on the 8 June 1884 aged 32 years.
William Albert Boughton was born at Westbury-on-Severn on 23 December 1854. After leaving school he was employed as a Corn Merchant's Clerk.  By 1889 he had moved to Park Terrace, Riverside, Cardiff, to further his career at a Corn Merchants. He progressed to become an Accountant which was listed as his employment when he married Florence Annie Giblett on 29 October 1890 at St. Saviours Church, Redland, Bristol; the family continued to live in Cardiff and the couple had three children, all of whom lived into adulthood. By 1891 the family had moved to Kings Road in Cardiff but he was now employed as a Miller. By 1901 William had been promoted to the Flour Mill Manager and the family now lived in Cathedral Road, Cardiff; his wife, Florence, died within a few years of moving there. William, like his brother John Boughton was a founder member of the Gloucester Rugby Club. In 1936 his son Cecil Boughton quoted his father as saying that the inaugural meeting of the football club had taken place in his mother's house at 9 Brunswick Square, which was before the meeting on 15 September 1873 at the Spread Eagle Hotel. At this meeting about 45 founding members including John and William Boughton were enrolled into the new club. In the 1933-34 season William attended Gloucester Rugby Club's Diamond Jubilee celebrations as the only surviving founder member of original 1873 team. William, a forward and a three-quarter, would go on to make 99 appearances for the Gloucester First XV between 1873 and 1886, scoring 26 tries and kicking 3 conversions and 1 drop goal. He also played about 6 games for the Second XV between 1879 and 1882 and was awarded 3 Gloucestershire County caps between 1880 and 1883. William also played lawn tennis for Gloucester and like his two brothers William was a keen cricketer. William played 3 matches for the Gloucestershire County Cricket Club between 1879 and 1883 and when he died in 1936 he was described as one of few surviving cricketers who had played with W.G. Grace in the Gloucestershire team. He would go onto to serve as the Vice President of the Glamorgan County Cricket Club. After retiring from rugby and cricket his sporting interests were more gentile and he became a member of the Cardiff Bowling Club and frequently played billiard and snooker almost up until the time of his death. His sons inherited their father's sporting traits with Eric Boughton captaining Newport Cricket Club while Cecil Boughton was the Secretary of Glamorgan Wanderers RFC. William spent the remainder of his life in Cathedral Road, Cardiff and died on 26 November 1936 aged 82 years. The funeral service held in the Llandaff Cathedral's Lady Chapel and he was buried in the Llandaff Cathedral Cemetery. His wife, Florence, had died previously on 18 May 1909 aged 39 years.
Hubert James (Jimmy') Boughton was born at Westbury-on-Severn in 11 October 1858. His elder brothers, William Albert Boughton and John Boughton were founder members of and players at the Gloucester Rugby Club. He was articled to the law firm of Messrs Bretherton and Son where he qualified as a Solicitor and subsequently became the Managing Clerk of the firm. On 1 January 1891 he became a partner in the firm which now conducted business under the name of Bretherton, Son and Boughton. Following the death of James Bretherton, the firm's founder, in 1897, the business continued with two partners Frederick Hawkins Bretherton and Hubert Boughton and became known as Bretherton and Boughton. On 5 February 1889 he married Kate Elizabeth Chance at St Stephen's Church, Hampstead, London. Hubert's marriage was recognised by a testimonial beforehand where he was presented with a black marble clock and silver tea and coffee service on behalf of various athletic clubs particularly the Gloucester Rugby Club and the Gloucester Cricket Club. The couple had two children and initially lived at Linden Grove, South Hamlet before moving to Lewisham House, London Road, Gloucester. Hubert, a three-quarter and half-back played 114 for the Gloucester First XV between 1875 and 1886, scoring 52 tries and kicking 73 conversions and 5 drop goals; he captained the side for two seasons 1883-1885. He also played 19 games for the second XV between 1878 and 1885 scoring 12 tries and kicking 12 conversions and 2 drop goals; he captained the Second XV for the 1882-83 season. He was also awarded 9 Gloucestershire County caps. Hubert would go on to be the first president of the Gloucester Rugby Club in 1902. Like his brothers John and William Boughton he was also a keen cricketer and played primarily for the Gloucester Cricket Club but also represented the Gloucestershire County Cricket Club in 7 matches between 1884 and 1888. Hubert continued to work as a Solicitor. On the evening of 26 March 1902 he had just returned from work to his home, Lewisham House in London Road, when he was seized by a coughing fit and collapsed and died suddenly on his doorstep aged 43 years. His wife, Kate, subsequently moved Charnwood House, Wotton and died on 31 October 1927 aged 60 years.  There is a detailed profile of the playing career of Hubert James ('Jimmy') Boughton in the People/Player Profiles section of this website. There is also a detailed profile of his administrative career in the People/Administrators section of this website.