2. Gloucester Players' Family Inter-relationships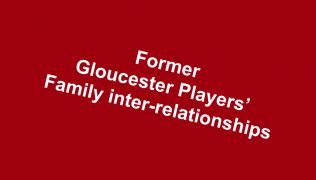 This page provides links to files showing the relationships between various Gloucester players and their immediate families.
Please note that this series of pages has been designed to be viewed using the GOOGLE CHROME browser.
Click on the "Set No." link below to select the families you're interested in.
Once you're into your selected file click on the links of the individuals to explore their family histories.   Each individual's history shows their rugby playing career in red font.
A family tree diagram shows the complex inter-relationships.
You can return to this page by selecting "Go to List of all inter-relationships" or by hitting the back arrow "<-" sign in the top left of your browser.
If you want to search for a specific family name click the link to see a list of family names in alphabetical order.
We are indebted to Martin and Teresa Davies who have carried out the detailed research which allows us to publish this information.