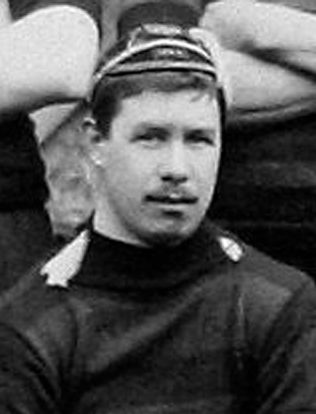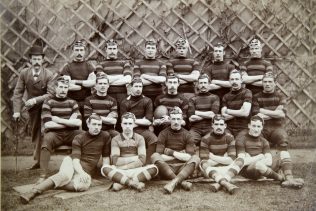 The GRIST Family: brothers Richard Lewis Grist and Ronald Grist
Richard Lewis Grist and Ronald Grist were the sons of Richard Grist (1827-1891) and Lucy Grist (née Smith) (1836-1905). The couple were married on 22 March 1855 at Brimscombe Parish Church and had eight children. In 1863 the family moved to Bourne House, Brimscombe and remained there until 1893 when the property was sold after Richard's death. Richard Grist founded Richard Grist and Company which manufactured various products including mattress-wool, mill-puff and shoddy at the Bourne Mill and from 1856 at the newly constructed, purpose built Lewiston Mill.
Richard Lewis Grist was born at Stroud in April 1862 and was the older brother of Ronald Grist. He lived with his parents in Bourne House, Brimscombe until it was sold in 1893. In 1891 following the death of their father, Richard and his brother Lawrence Grist (1858-1936) continued to run the family business as a manufacturer of flock solely at Lewiston Mill as Bourne Mill had been sold. Richard would become the Managing Director when it became a limited company, Messrs Richard Grist Limited. Nationally he was well-known and was a President of the National Federation of Bedding and Allied Trades. He was also a Director of the Brimscombe and Chalford Gas Light and Coke Company.
On 21 June 1896 he married Adelaide Alberta Hunt at Holy Trinity Church Stroud. They lived at Cotswold House, Brimscombe but by 1911 had moved to Wellington Square, Cheltenham. The couple had three children. Sadly Adelaide died in Cheltenham on 24 May 1916 aged 48 years.
In 1921 on 13 April Richard married Ethel Alice Probyn Swinley at St Marys Church, Cheltenham; the couple had no children. Throughout Richard and his second wife were prominent figures in local politics in Cheltenham with Richard being the Honorary Secretary of the Pittville Ward Committee of the Conservative Association and Ethel Grist President of the Women's Conservative Association.
Richard played at half-back and sometimes in the forwards which was not uncommon during this era. Initially he was a player at the Stroud Rugby Club but subsequently played 38 games for the Gloucester First XV between 1879 and 1882, scoring 10 tries; he was described as "…one of the most brilliant runners who ever handled the ball". He was also awarded 1 Gloucestershire County cap.
Richard was an all-round sportsman and besides rugby also played cricket for Stroud Cricket Club and football for Brimscombe Association Football Club. Richard died in Cheltenham on 1 June 1938 aged 76 years. His wife, Ethel died in 1958 aged 79 years
Ronald Grist was born at Stroud in July 1868 and was the younger brother of Richard Lewis Grist. He did not follow his brothers, Richard Lewis Grist and Lawrence Grist into the family business as in 1891 was employed as a Bank Clerk. He transferred to Amersham, Buckinghamshire to take up a post of Acting Bank Manager but by 1899 was confirmed as a Bank Manager at the local branch of the Capital and Counties Bank; he remained in this position until 1915.
During the Great War Ronald promoted local recruiting in Amersham and subsequently volunteered for service on 16 July 1915 despite being 47 years of age.  He was promoted to a Lieutenant initially on the General List but fit only for home service. However with the desperate need for more men fitness tests were reassessed and those capable of marching 10 miles with army kit were assigned to the Rifle Brigade for garrison duties overseas to free-up the regular soldiers. Ronald was assigned to the 18th Battalion, Rifle Brigade and on 26 November 1915 sailed initially for India and subsequently arrived at Rangoon in Burma on 5 January 1916. He was appointed as the Assistant Adjutant and stationed at Port Blair in the Andaman Islands. He eventually returned to Rangoon to take up various posts including the Musketry Officer and the Station Staff Officer. However on 11 May 1918 he was taken ill with ptomaine poisoning (food poisoning), became unconscious, and died on 15 May 1918. Papers promoting him to Captain were ready in the Burma Divisional Office but were never sent. He is commemorated on the Amersham War Memorial and the Kingsholm Stadium War Memorial.
Ronald, a wing, played 24 games for the Gloucester First XV between 1886 and 1890 scoring 11 tries. He also played 7 games for the Second XV between 1886 and 1889, scoring 12 tries. He was awarded 3 Gloucester County caps including one against the touring New Zealand Maoris when he scored Gloucestershire's only try. As a rugby player he was noted for his great speed and dodging ability but also the fact that he had a weak arm which invariability would slip out of its socket during matches thereby rendering Ronald inoperable; despite trying all sorts of contrivances to resolve the problem none succeeded and hence his career was relatively short.