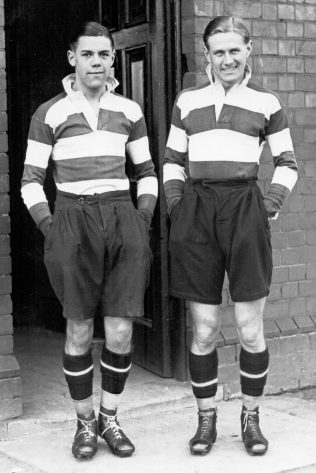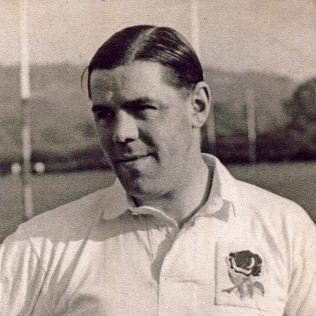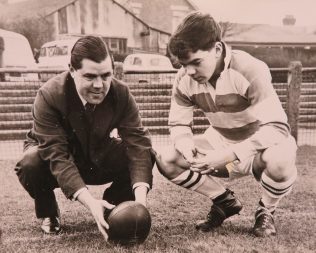 The HOOK Family: brothers Robert ('Bob') Edward Hook, and William ('Bill') Gordon Hook and Bill's son Gordon Nicholas Hook
Researched and compiled by Martin and Teresa Davies, and Gordon Hook.
Robert ('Bob') Edward Hook, and William ('Bill') Gordon Hook were the sons of Albert Edward Hook (1884-1955), an Assurance Agent, and Florence Hook (née Gardner) (1884-1963). The couple were married on 23 July 1908 at St Nicholas Church, Church and had only the two children. In 1911 the couple were living at 30 Priory Road, Gloucester but later moved to Estcourt Road, Gloucester.
Robert ('Bob') Edward Hook was born at Gloucester on 21 June 1911 and was the older brother by ten years of Bill Hook and the uncle of Bill's son, Gordon Nicholas Hook. On 5 August 1939 at St. Michaels Church, Dundry, North Somerset Bob married Elsie Marshall. The couple had four children. Bob was a Clerk in the Education Department of Gloucestershire County Council, a position he held for seven years. In April 1939 he announced that he was leaving Gloucester in May to take up the position of Assistant Secretary to the Devon and Cornwall Committee of the National Fitness Council which was based in Exeter. The National Fitness Council was set up in 1937 in response to the Physical Training and Recreation Act 1937, however it was suspended at the start of the war and never resurrected again with its activities for promoting fitness transferred to the Ministry of Education. Bob served with the Royal Air Force (RAF) during the war training new recruits at various bases, initially at Bridgnorth in Shropshire before being posted to Skegness in Lincolnshire.  When he resumed civilian life he returned to Gloucester and was involved in supporting a variety of youth activities. He became the Forest Youth Organiser for youth organisations within the Forest of Dean which included the Cinderford branch of the Girls Training Corps (GTC).  He was also involved with 181 Squadron (Sir Thomas Rich's School) Air Training Corps (ATC) and trained the athletes who won the annual athletics meet of the South West Command ATC at Taunton in 1945. He subsequently left Gloucester and went to Weymouth in 1946 before moving to  Exeter to join the Youth Service of Devon County Council; he would remain in Exeter for the rest of his life. Bob, a wing, played initially for Sir Thomas Rich's School and Widden Old Boys before joining Gloucester. He played 156 games for the Gloucester First XV between 1928 and 1946 although the majority of his games were played before the war when he made 143 appearances. Bob scored 93 tries and with his goal kicking amassed 350 points. He also made 36 appearances for the Gloucester Second XV between 1929 and 1939 scoring 43 tries. He was awarded 8 Gloucestershire County caps and scored 5 tries. After retiring from rugby, he became a first class referee with the Devon Society and in March 1955 refereed the County Championship Final between Middlesex and Lancashire at Twickenham. Bob died at Latchmore Green, Exeter on 12 July 1994 aged 83 years. His wife Elsie had previously died in car accident near Exeter in 1967 aged 57 years. There is a detailed profile of Bob Hook in the People/Player Profiles section of this website.
William ('Bill') Gordon Hook was born at Gloucester on 21 December 1920 and was the younger brother by ten years of Bob Hook. Bill as a youngster met many the Gloucester players who were his brother's friends and who frequently visited the house. Notable amongst these were Grahame Wilshaw Parker OBE (see the Gallantry Awards in the People/Honours/Military Honours section of this website) and Sidney Jack ('Jack') Stephens (see Family Relationship set 6) who lived nearby; Jack used to take Bill, from the age of seven, into Kingsholm with him on match days to watch the games. Bill was educated at Sir Thomas Rich's School until 18 years of age – in 1918 the School Certificate and the High School Certificate had been introduced which enabled students to study in school until 18 years of age. After leaving school  Bill became an Apprentice Draughtsman at the Gloster Aircraft Company (GAC) where he was taken 'under the wing' of the Chief Draughtsman Sidney Jack ('Jack') Stephens who had returned after playing for Oldham of the Northern League from 1929 until 1935. However Bill's time at GAC was short-lived with the declaration of war. Bill was called up in 1941 to serve in the Royal Air Force (RAF) during the Second World War and reported initially to Penarth before beginning his training at Weston-super-Mare and subsequently at RAF Headquarters at Cranwell, Lincolnshire. In 1942 as an Aircraftsman he was posted overseas to West Africa and served at Freetown in Sierra Leone and then Takoradi on the Gold Coast in Ghana. RAF Takoradi was a staging post where Spitfires were shipped in crates to be assembled before joining the war in North Africa. RAF Takoradi was also the home of 26 Squadron which flew anti-submarine and convoy protection patrols over the Atlantic. Bill played some rugby during his service period, captaining the station XV. He was stationed in Africa for two years, returning to the UK in 1944 and landing at Gibraltar during the D-Day landings. Bill was stationed in the UK for the remainder of the war and was demobilised in 1946. On 11 August 1944 at Northgate Methodist Church, Gloucester, having just returned home after two years away with the RAF, Bill married Joan Mary Tincknell; their Best Man was Bill's brother Bob Hook. The couple had three children including Gordon Nicholas Hook who would also play for Gloucester. After the war Bill's time at GAC was relatively short lived as in 1947 with the help of his father-in-law, Sidney Tincknell, he purchased a shop at 55 Westgate Street which was named 'Bill Hook's Sports Equipment and Toy Shop'; throughout the shops' existence however  Bill advertised widely in the Citizen but always emphasised the 'sports' side of the shop. The shop opened on 15 August 1949 and was situated a few doors away from the fruit and vegetable shop run by Don Meadows (see Family Relationships set 14). The shop closed in 1981. Bill, a centre and full-back initially played for Gloucester Old Boys, but subsequently played 144 games for the Gloucester First XV between 1937 and 1952 although the Second World War interrupted his career with Gloucester; he played 20 times before the war and 124 after the war. He scored 77 tries and together with his kicking amassed 361 points. Bill also played 11 games for the Second XV between 1937 and 1952 scoring 14 tries. He was awarded 23 Gloucestershire County caps between 1947 and 1952, scoring 22 tries. He also won 3 England International caps in the 1950-52 seasons against Scotland, South Africa and Wales. Bill died at Gloucester on 9 May 2013 aged 93 years. His wife, Joan, died in March 2020 aged 96 years. There is a detailed profile of Bill Hook in the People/Player Profiles section of this website.    There is also a recording of an interview with Bill Hook conducted by Malcolm King and John Theyers of the Gloucester Rugby Heritage team held 19 January 2010.
Gordon Nicholas Hook was born in Gloucester on 4 October 1945, and was the son of William ('Bill') Gordon Hook (1920-2013) and Joan Mary Hook (née Tincknell) (1924-2020) and the nephew of Bob Hook.
On 30 March 1970 Gordon married Linda Mary Cole at Sansom Walk Baptist Church in Worcester. The couple had three sons, all of whom were played sport although not rugby; the eldest James Hook was the Universities Athletic Union (UAU) 800 metre champion at Edinburgh in 1993 and whilst on a sports scholarship at Louisiana State University was part of the GB Olympic Training Squad. Gordon, like his father and uncle, was educated Sir Thomas Rich's School and played in the England under 19 Group XV between 1963 and 1965 against Wales (twice) and France (once). After school Gordon obtained a degree in Geography and Physical Education from Loughborough College between 1965 and 1969. Throughout college as a centre/full-back he played 3 seasons for the college first XV before a concussion injury forced him to concentrate on his studies. At college he was awarded 2 Leicestershire County caps in 1969 against Middlesex and Warwickshire. During his college years he also played 5 games for the Gloucester First XV between 1966 and 1968, kicking one conversion and 2 penalties. Further he played 2 games for the Gloucester Second XV in the 1966-67 season.  After leaving Loughborough College and Gloucester he moved to Plymouth to teach at Plymouth College (1969-1973); amongst his students was Paul Ackford, the England second-row forward. Whilst at the college he played rugby for Plymouth Albion and during this time he turned out for Plymouth against his old club Gloucester at Kingsholm on 31 January 1970; the match day programme acknowledged his inclusion in the side. Subsequently Gordon moved to Sussex to teach at Brighton, Hove and Sussex Sixth Form College and played a few games for Lewes RFC before focusing on a political career and was the parliamentary candidate for Lewes for 5 years (1974-1979). A further move back to Devon meant that he became involved in local government and was a County Councillor for 16 years as well the Council Leader of Teignbridge District Council; Gordon has now retired from politics and lives in Newton Abbot.