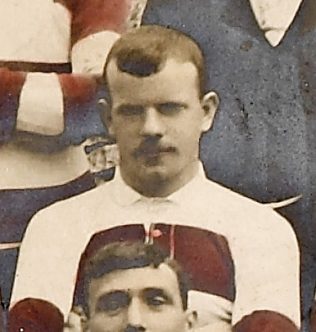 The LEWIS WATKINS Family: Father and son, Birt Lewis Watkins and Leslie Charles Lewis Watkins
Although 'Watkins' was their official surname on the majority of documents, the surname of 'Lewis-Watkins' was used in both newspaper reports and a probate calendar.
Birt Lewis Watkins (Lewis-Watkins) was born in Gloucester in July 1877, the son of Charles Lewis Watkins (1834-1911), a General Painter, and Harriett Lewis Watkins (née Morris) (1841-1902). The couple lived variously in Columbia Street and Union Street, Gloucester and had eleven children of which four died in infancy. Birt's grandparents were Henry Watkins and Elizabeth Lewis from which originated the use of the surname of Lewis-Watkins. On 29 March 1902 Birt married Florence Kate Arnold at St Marks Church, Gloucester. Birt was working as a Bricklayer and the couple had five children including Leslie Charles Lewis Watkins who, like his father, would also play for Gloucester. One of the couple's other sons, Bertram Thomas Lewis Watkins played cricket for Gloucester and Gloucestershire between 1932 and 1938 as a wicket keeper; he played alongside the Gloucester Rugby Club player Grahame Wilshaw Parker OBE (62 games for the First XV, 1931 to 1937). Birt, a forward, played 49 games for the Gloucester First XV between 1897 and 1901, scoring 6 tries. He also made a further 12 appearances for the Gloucester Second XV between 1898 and 1903, scoring 2 tries. Between 1897 and 1900 he was awarded 13 Gloucestershire County caps. After his career with Gloucester he joined Bristol. Birt who was living in Serlo Road, Gloucester, died on 6 April 1933 aged 56 years. His wife, Florence, died in 1955 at Sodbury aged 75 years.
Leslie Charles Lewis Watkins was born on 2 May 1914 in Gloucester, the youngest son of Birt Lewis Watkins and Florence Lewis Watkins (née Arnold). Leslie grew up in Gloucester and after leaving school aged sixteen years worked initially for the Great Western Railway before moving to Southampton in 1934 and joining the local police force. In 1939 in Southampton he married Ceinwen Jones and the couple lived at Chamberlain Road, Southampton while Leslie was employed as a Police Constable. Leslie, a centre, played 18 games for the Gloucester First XV between 1933 and 1936, scoring 9 tries. He also played 10 games for the Gloucester Second XV in the 1933-34 season scoring 9 tries. He was awarded 2 Gloucestershire County caps in the 1934-35 season. During his period with the Gloucester Rugby Club he travelled from Southampton to play in the games; during this period he also played cricket in the summer months in Southampton for the Southampton Police. Leslie had previously played cricket for Gloucester appearing in the same side as his brother, Bertram Thomas Lewis Watkins. Leslie died on 28 July 1990 aged 76 years whilst living at Omdurman Road, Highfield, Southampton. His wife, Ceinwen, had previously died in Southampton in 1980 aged 67 years.