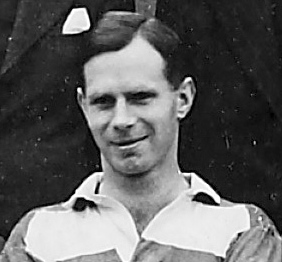 The NICHOLLS Family: brothers Patrick ('Pat') Burgh Nicholls and Richard ('Dick') George Nicholls
The sons of Wilfred Turner Nicholls, MBE, JP (1884-1973) and Muriel Margaret Nicholls (née Nixon) (1887-1972). The couple married in Westbury-on-Trym on 19 September 1912 and had two children, both of whom would play for Gloucester.  Their father, Wilfred, became Chairman of the Gloucester Rural District Council and a member of the Gloucestershire County Council.
Patrick ('Pat') Burgh Nicholls was born in 1919, the brother of Richard ('Dick') George Nicholls. Pat was educated at Kings School and Oundle School (a public school) in Northamptonshire and then Cambridge University. Whilst at Oundle, he became a Public Schoolboy International. On 27 September 1947 at the Church of Saints Philip and James, Cheltenham, he married Patricia ('Trish') Betty Dickson and the couple had three children. Pat became a Company Director (Contract Director) in a number of companies in Gloucester which built domestic and commercial buildings and managed real estate throughout the city. He resigned all is directorships in 1991, retiring at the age of 72 years. He served as a Lieutenant in the Royal Engineers during the Second World War and survived the evacuation from Dunkirk. He subsequently served in the Middle East, India and Greece. Pat, a full back, also played for Gloucester Old Boys, played 45 games for the Gloucester First XV between 1938 and 1950, scoring 14 tries. He also made at least 31 appearances for the Gloucester Second XV between 1937 and 1951, scoring 3 tries; the Second World War interrupted his rugby career at Gloucester with the result that he missed six seasons which undoubtedly meant that he would have represented the Gloucester First XV on many more occasions. Pat was also a member of the Gloucester Cricket Club and on one occasion in 1947 played for the Gloucester Rugby Club in a cricket match against his own club, Besides his brother Dick Nicholls, the rugby side consisted of Joe Hopson, Steven Davies, R.C. Terry, Bill Hook, Bill Moreland, Roy Morris, Sid Dangerfield, Arthur Hudson and W.B. Williams; the rugby side lost with Pat as the star batsman scoring 69 of the rugby side's 148 runs! Pat died on 1 April 2010 aged 90 years whilst on a cruise in the Caribbean. His wife, Patricia, had died previously in 1995 aged 73 years.
Richard ('Dick') George Nicholls was born in 1921, the brother of Patrick ('Pat') Burgh Nicholls. Like his brother Dick, he was also educated at Kings School and Oundle School (a public school) in Northamptonshire. During the Second World War Dick served as a Lieutenant in the Kings African Rifle and fought with the Fourteenth Army in Burma. Throughout a period of three and a half years several attempts were made to meet up with his brother but all failed. However, whilst on leave in Bombay he went for a haircut and while there was greeted by an officer who thought he was Pat Nicholls. Once the confusion had been resolved the officer informed him that his brother had returned to India from Greece and was able to give him his temporary address. After a few exchanges of telegrams the pair met up in Bombay in March 1945 and spent a week together, including going to Ranji Cricket Cup Final where Denis Compton made a double century, scoring 249 runs not out – Compton was a serving soldier but had been granted permission to play. Shortly afterwards the Nicholls brothers returned to their respective units. On 4 June 1949 at the Parish Church of St Mary, Flaxley, Dick married Jacinth McNamara who had been born nearby in Westbury-on-Severn. His bride-to-be worked up to the time of the marriage at the St. John and Red Cross Headquarters in Gloucester. However during the war she was also in uniform and served with the Women's Royal Naval Service (WRNS, popularly and officially known as the 'Wrens'). Dick, a prop or hooker, played 24 games for the Gloucester First XV between 1946 and 1949, scoring 2 tries and 13 games for the Gloucester Second XV between 1946 and 1951, scoring 1 try. Dick died on 26 September 1967 aged 45 years and was buried in the churchyard at Upton St. Leonards. His wife, Jacinth, died in 1994 aged 71 years.