BARNES, Albert Edward (1890 – 1950), Distinguished Conduct Medal (DCM)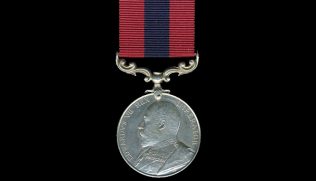 Albert Edward Barnes was born at Gloucester on 7 June 1890. He worked as a Hotel Porter but joined the 3rd Battalion, Gloucestershire Regiment in 1907 and subsequently transferred to the Royal Navy in 1908; whilst in the Royal Navy he served with the Royal Marine Light Infantry, Plymouth Division.
Military Highlights
Having previously left the Royal Navy on 1 May 1914, he enlisted on 4 December 1914 in the reserve unit of the 5th Battalion, Gloucestershire Regiment. He landed in France on 23 May 1916 with the 2/5th Battalion, Gloucestershire Regiment which was part of the 61st Division. On the 1 November 1918 the 61st Division, having been forced out of the village of Maresches in the morning, launched a counterattack the following night against the Germans in well-fortified machine gun emplacements. Sergeant, 241211, Albert Barnes was amongst a group of soldiers from the 2/5th Battalion Gloucestershire Regiment and for his actions that night he was awarded the Distinguished Conduct Medal (DCM). His citation describing his contribution paints a vivid picture – "For gallantry and devotion to duty. At Maresches, during a night attack on 1st November 1918, he was acting C.S.M [Company Sergeant Major]. The advance was held up in one sector by a strong enemy post, and he, with his company commander and a few men, rushed the post. He bayoneted two of the enemy and knocked another one out with his fists. His fine courage and example inspired the confidence of all ranks".
Rugby and Other Highlights
Albert, a forward, played 9 games for the Gloucester Second XV in the 1909-10 season; the low number of games was probably attributable to his commitments within the Royal Navy including his deployment to Hong Kong from April 1910 to September 1911. However despite his small contribution to the Gloucester Rugby Club he gained a fine rugby reputation during the war as reported in the Citizen. This was enhanced in 1918 whilst at Seaton Delaval in Northumberland where after recovering from wounds received in January 1918, he trained with the 4th (Reserve) Battalion, Gloucestershire Regiment in readiness for his return to the front. The 4th (Reserve) Battalion XV in March 1918 had several Gloucester players particularly in the pack where Sergeant Albert Barnes and Lance Corporal William Dovey were described as "…simply irresistible…and one hesitates to think what would happen [when] these fine players are lost to the side". Albert's "irresistible" nature was evident not only on the rugby field but was also mirrored in the manner in which he won his gallantry medal.
Albert died on 4 September 1950 at the Royal Hospital, Gloucester aged 59 years.