BARNES, Hubert ('Bert') Charles (1891 – 1961), Military Medal (MM)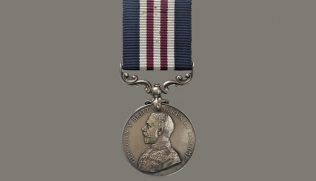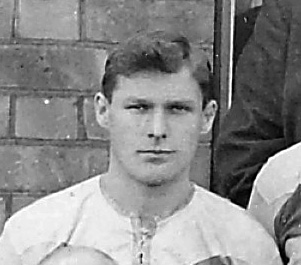 Hubert Charles Barnes was born at South Hamlet Gloucester in 1891. He initially worked as an Engineer's Clerk but by 1914 he was employed by the brewers, Arnold, Perret and Company at Wickwar.
Military Highlights
Along with many of the other Gloucester Rugby Club players he enlisted on 5 September 1914 in the 1/5th Battalion, Gloucestershire Regiment and landed in France on 29 March 1915. By April 1917 he was promoted to Sergeant. After the five month long Somme Offensive, the Germans fell back to the earlier prepared positions of the formidable Hindenburg Line. The British Army warily pursued them as the ground had been scorched and booby-trapped but by beginning of April the new German defensive positions were reached. On 4-5 April as part of the 145 Brigade attack, the battalion attacked positions at La Paurelle. There had been a heavy fall of snow and in the moonlight the attackers were soon spotted and attracted a heavy artillery barrage. The objectives were captured even though they were strongly held with several machine guns. As a result the battalion suffered casualties of seventeen killed and thirty-eight wounded. It was during this attack that Hubert was awarded the Military Medal (MM) for gallantry. Sadly no citations were published for Military Medals. Hubert was wounded in October 1917 and following recovery in the UK was transferred to the Royal Air Force; he survived the war and was demobilised on 2 March 1919. Today Hubert's Military Medal together with his campaign medals are on display at the Soldiers of Gloucestershire Museum at Gloucester Docks.
Rugby and Other Highlights
Hubert, a full back, played primarily for Old Cryptians but did assist the Gloucester Rugby Club particularly in the 1912-13 season as cover for injured regular players. During the Great War he represented the 5/Gloucesters XV which consisted of so many Gloucester players that in practice it was the 'Gloucester Rugby Club XV'; as such it attracted a lot of challenges from other rugby XVs of other army units but went through the war undefeated. In 1918 Hubert whilst home on leave but still subject to military regulations represented the Gloucester Rugby Club as it played a number of fixtures over the Christmas period; these teams include other Gloucester players such as Charles Cook, William Washbourne, Arthur Hudson, Alec Lewis, William Dix, Harry Cook, Norman Hayes, Arthur Hall and John Webb.
Hubert died on 27 April 1961 at Cheltenham aged 70 years