TANNER, Christopher Champain "Kit", 1909-1941, Albert Medal (A.M.), Royal Naval Volunteer Reserve (R.N.V.R)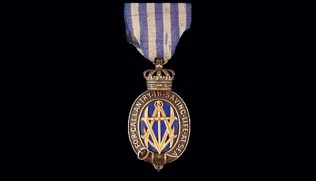 Military/Naval Highlights:
The following is the citation, published in the London Gazette edition dated 28th April 1942 (page 1849), for the posthumous award of the Albert Medal:
"The Reverend Christopher Champain Tanner, Temporary Chaplain, R.N.V.R., H.M.S. Fiji, who, when H.M.S. Fiji was sunk in the Battle of Crete, stayed to save the wounded men from the sick bay, and was one of the last to leave the ship. While in the water he spent himself in helping men to rafts and floats and, when the rescuing ship came up, in bringing over to her disabled men and such as could not swim. At length only one man remained to be brought across. Despite his exhaustion Mr. Tanner made a last effort to save him. He brought him across and saw him safely on board. But when hauled up himself he died within a few minutes."
Rugby Highlights:
Christopher " Kit" Tanner, a wing three-quarter, played for Cambridge University, Gloucester and England.  He was one of three clergymen who played for Gloucester together in the same team in the late thirties, the others were Bill Phillips (at centre-threequarter) and Mervyn Hughes (at wing-forward). Kit won 1 cap for England in 1930 and 4 more caps in 1933-34.
For more details see "Kit" Tanner's Player Profile.