EGERTON, William ('Bill') (1887-1961), Mentioned in Despatches (MiD)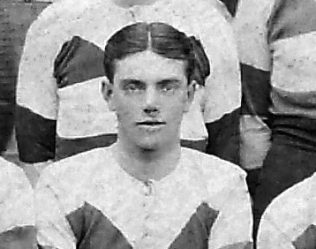 Bill Egerton was born in 1887 at St Mary de Lode, Gloucester. After leaving school aged 13 years Bill worked for fifty-seven years (1900-1957) for Messrs Price, Walker and Company Limited, timber importers.
Military Highlights
Along with many of his fellow players, Bill enlisted in September 1914 in the local Territorial Force (TF) unit, the 5th Battalion, Gloucestershire Regiment. He landed at Boulogne on 25 March 1915 in D Company of the now designated 1/5th Gloucesters as part of an advance party to prepare for the arrival of the main force of the battalion four days later. He was promoted to the rank of Sergeant in July 1916. Although the 1/5th Gloucesters was stationed mainly on the Western Front, it moved for eleven months to Italy (November 1917 to September 1918) to support the beleaguered Italian Forces under attack from the Austro-Hungarian Army. In June 1918 whilst on the Italian Front Bill was Mentioned in Despatches (MiD) in a despatch from General Sir Herbert Plumer for "…gallant and distinguished services in the field…"; on 29 March 1925 General Plumer would unveil the war memorial to the fallen of the 5th Battalion, Gloucestershire Regiment which now stands at Gloucester Park.
Rugby and Other Highlights
Bill, as a full-back and scrum-half who also played for Gloucester Old Boys, played 37 games for the Gloucester First XV between 1908 and 1912 amassed 85 points as a goal kicker. He played a further 42 games for the Gloucester Second XV between 1906 and 1912 again amassing 85 points as a goal kicker. During the war he played rugby within the battalion and was the captain of D Company which was the 5th Gloucesters Inter-Company Champions of 1915. Bill, a keen sportsman, was a founder member of the Nondescripts Cricket Club.
Post-war Highlights
Bill was demobilised from the army on 27 February 1919 and returned to his job at Messrs Price, Walker and Company Limited.  He died on 3 April 1961 at Gloucester aged 74 years on his way home after watching the Easter Monday match at Kingsholm against Sale. His funeral was held at St Catharine's Church, Gloucester.
[With thanks to Chris Collier for providing the statistics on Bill Egerton's playing career for Gloucester.]