Fallen Heroes: Edwin Lovegrove and Harry Ricketts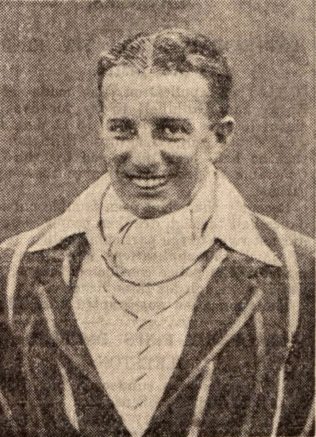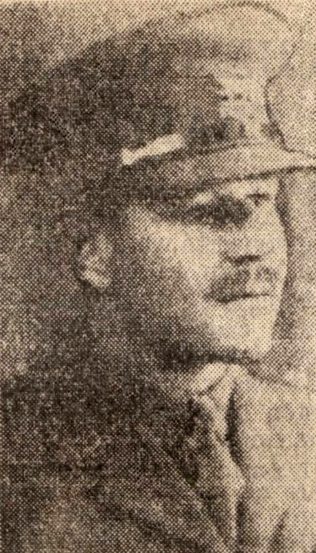 Edwin Lovegrove
Edwin William Lovegrove was born at Stamford, Lincolnshire in July 1908 the son of Edwin William Lovegrove (1868-1956) and Septima Jane Lovegrove (née Roberts) (1866-1928). The family lived in Stamford as Edwin's father, a graduate in Mathematics from New College, Oxford University, was the Headmaster at Stamford School, founded in 1532. Edwin William Lovegrove Senior was the Headmaster from 1907 until 1913.
In 1913 the family moved to Ruthin in North Wales as Edwin's father was appointed the Headmaster of Ruthin School (founded 1284), a position he held until 1930. He was an amateur Archaeologist and a frequent contributor to the Welsh journal Archaeologica Cambrensis but his main achievement which would influence his son was the introduction of the game of rugby at Ruthin School. In 1923 Edwin Lovegrove Junior furthered his education at Cheltenham College where he remained until 1927 before following in his father's footsteps and studying at New College, Oxford University.
Whilst at university, Edwin, an outside half and centre, played rugby primarily for the Oxford Greyhounds and Cheltenham but also made seven appearances for the Gloucester First XV between 1929 and 1930. Sadly Edwin was deprived of a rugby 'Blue' whilst at Oxford University as he sustained a broken leg in the week before the match against Cambridge. After graduation Edwin moved to Nottingham to take a post as a member of staff at Nottingham High School. During this period he played rugby for Nottingham Rugby Football Club (33 games between 1932 and 1937) and cricket for Notts and Arnold Amateur Cricket Club.
Early in 1933 Edwin married Helen Mavrogordato at Kensington, London and the couple lived in Nottingham until about 1937 when Edwin became a Master at Framlingham College (founded 1864) in Suffolk where he also acted as a Lieutenant in the Framlingham College Officer Training Corps (OTC). Whilst at Framingham College he played cricket for Suffolk. The couple lived in Pembroke Road in Framlingham but by 29 September when the 1939 Register was compiled Helen's parents, Eustratius Emanuel and Elsie Josephine Mavrogordato, had temporarily moved in with her whist Edwin was away on military duty.
In 1939 with the outbreak of the Second World War, Edwin was immediately commissioned as a Lieutenant into the 9th Battalion Sherwood Foresters (Notts and Derby Regiment) and began wartime training and preparation for deployment into a theatre of war. Reminiscent of 1914,he British Government, as part of a pre-agreed defensive strategy for France, formed the British Expeditionary Force (BEF) on 2 September 1940 which was deployed to France beginning on 4 September. Amongst the BEF battalions was the 2nd Battalion Sherwood Foresters (1st Infantry Division) but, because of the deteriorating military situation, this unit was joined in April 1940 by the 1st/5th, 2nd/5th and 9th Battalions whose training and preparation for war readiness were curtailed; the 9th Battalion contained Lieutenant Edwin Lovegrove. However the BEF was forced back to Dunkirk and at one point the 2nd Battalion (3 Infantry Brigade, 1st Infantry Division) and the 2nd/5th and 9th Battalions (139 Infantry Brigade, 46th Infantry Division) were in the line defending the outer perimeter of Dunkirk; the 1st/5th Battalion had been transferred further west and was evacuated from Cherbourg. During this period Edwin was Mentioned in Despatches (MiD). The subsequent evacuation of the BEF from the beaches of northern France (codenamed Operation Dynamo) took place between 26 May and 4 June 1940.
Edwin was killed in action on 1 June 1940 aged 32 years defending the beaches at Dunkirk. His body was never recovered and identified and he is commemorated on Column 94 on the Dunkirk Memorial which honours 4504 British casualties. He is also commemorated on the Notts and Arnold Amateur CC 1939-45 Roll of Honour, the Framlingham War Memorial and the Framlingham College War Memorial where he is commemorated as the only Master to have died during the war. His wife, Helen, died at Waveney, Suffolk in 1995, having never re-married, aged 88 years.
Harry Ricketts
Harry Osborn Dillion Ricketts was born at Tewkesbury 25 November 1912, the son of William Dillon Ricketts (1880-1922), the Headmaster of Trinity Primary School, and Mary Isabel Ricketts (née Osborn) (1880-1958). After the death of his father, the family continued to live in Tewkesbury at Trinity House until just before the war when they moved to Bournside Road, Cheltenham.
At the age of 21 Harry decided to embark on a military career and on 11 November 1933 he attested as Private 4102050 in the Royal Welch Fusiliers (RWF) signing on for 7 years a Regular soldier. After two years of service he was admitted to the Royal Military College, Sandhurst, as a Gentleman Cadet (GC).
Harry, a forward, gained his rugby 'Blue' at Sandhurst whilst he was undergoing officer training. During this period and after he also played 33 games for the Gloucester First XV between 1934 and 1940, scoring 1 try. Like many others of his generation the Second World War prevented him from playing more games for Gloucester.
Having passed through Sandhurst he was promoted on 28 January 1937 to a Commissioned Rank of Second Lieutenant in the Royal Welsh Fusiliers. For some of the period leading up to the war Harry was posted to India as part of the garrison of the Empire. On the outbreak of the Second World War and as the German Army occupied Denmark and Norway, Harry was part of a contingent sent to Iceland under 'Operation Fork' to guard against possible invasion; he remained there for over a year. After the British Army was replaced in Iceland by the Americans, Harry was transferred to the 2/5th Battalion, Leicestershire Regiment, and promoted to the rank of Captain.
On 23 December 1942 he left Britain destined for North Africa as part of 139 Brigade of the 46th Division to join the X Corps in Tunisia. During subsequent fighting in Tunisia he was taken prisoner by the Italian Army and transferred to the Italian Prisoner of War (POW) Camp A9 in southern Italy. In July 1943 he wrote to his widowed mother now living in Cheltenham telling her that he was very fit and well and hoped to be free soon. However, the Armistice of Cassibile, which was signed with Italy on the 3 September 1943, coincided with the Allies invading the Italian mainland with an amphibious landing at Salerno. With Italy now out of the war many Allied POWs including Harry 'escaped' from their internment camps determined to reach the British line around Salerno.
However, the Germany Army moved reinforcements into Italy to fill the void in the Axis line left by the Italian Army and by December 1943 the Allies were held by strong German opposition at the Gustav Line. As a consequence the escaped prisoners now had to make their way to the Allied line in southern Italy through German-held territory. During this journey Harry was caught in a mine explosion and suffered injuries which proved to be fatal. He died on 22 December 1943 aged 31 years and was initially buried near the spot where he fell. On the 17 August 1944 he was re-interred in the Sangro River War Cemetery in grave XI.B.29. He is commemorated on the Tewkesbury Roll of Honour and on the Tewkesbury War Memorial at The Cross.