Unsung Heroes: Allen Lodge and Edwin Wootton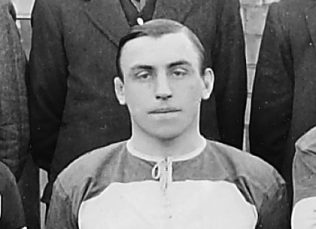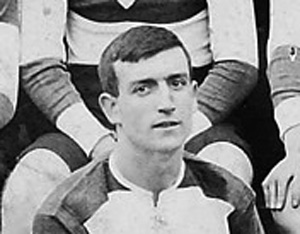 Throughout the research conducted on the military contribution of Gloucester Rugby Club players, instances were found whereby heroic actions on the battle field although recorded and recommendations made by local officers, were not recognised by an actual bravery award. This article recognises two such actions by rugby players.
LODGE, Allen (1888-1973)
Allen Lodge was born on 17 September 1888 at West Dean, Forest of Dean where he eventually worked as a Coal Miner Hewer.
Military Highlights
Allen enlisted the Royal Field Artillery as a Gunner and landed in France on 17 July 1915. In August 1916 in the local newspapers that Allen realised that his officer, 2/Lieutenant A. Wood, the Hampshire County forward, had been wounding and was lying in No Man's Land. Regardless of the obvious dangers and amidst a terrific German bombardment Allen crawled out and rescued his officer who despite being seriously wounded survived thanks to Allen's actions. Allen was recommended for a bravery award, probably the Military Medal, but the award was never conferred. Commenting on his actions, Allen modesty replied "I only did my duty…"; it is interesting that over a hundred years later what is seen as a truly heroic act was then simply regarded as 'duty'.
Rugby and Other Highlights
Allen, a back row forward, played initially for Bream RFC and Lydney RFC before joining Gloucester and in the two season 1910 to 1912 he made 61 appearances for the Gloucester First XV where he was described as "…sound scrummager…". He was awarded five Gloucestershire County caps between 1911 and 1913 although at the start of the 1912-13 season he returned to the Forest of Dean and re-joined Bream RFC. At the end of the war the Gloucester Rugby Club committee proposed to erect a memorial at the Club and announced in the Citizen a list of those players who would be commemorated on it. The Club announced that Allen had been killed in action – he immediately contacted the Club to made the point the that his death was somewhat exaggerated! Allen died in 1972 in the Forest of Dean aged 85 years.
WOOTTON, Edwin Francis (1887-1917)
Edwin Francis Wootton was born in South Hamlet, Gloucester in July 1887. He was employed as a Stamper at the Gloucester Railway Carriage and Wagon Works
Military Highlights
Edwin enlisted on 28 August 1914 but was discharged following a medical examination on 13 October because of cartilage damage to his knee, presumably as a result of playing rugby. Although discharged as '…unfit for service…' by early 1915 the condition had miraculously disappeared and he enlisted in the 9th Battalion, Gloucestershire Regiment. Edwin arrived on the Western Front on 21 September 1915 but the battalion was transferred first to Egypt and then to Salonika where it arrived amidst extreme cold weather and snow on 25 November 1915. On 25 April 1917 the 9th Gloucesters were ordered to support an attack by the 11th Worcesters against the Bulgarian positions. As it formed up the 9th Gloucesters were subjected to heavy and accurate artillery fire and as it attacked it was decimated by heavy rifle and machine gun fire. The unit was subsequently ordered to retire and as it did so and contrary to general orders Edwin went back into the firing zone to help a wounded comrade and was last seen bringing in the wounded man; Edwin's body was never recovered. Although he was recommended for a bravery award for his '…most conspicuous bravery and devotion to duty…' it was never awarded.
Rugby and Other Highlights
Edwin, a scrum half, make 23 appearances for Gloucester Rugby Club in the 1913-14 season, 4 of which were for the First XV in the 1913-14 season.
Edwin died on 25 April 1917 aged 28 years. He is commemorated amongst the Missing on the Doiran Memorial, Salonika, Greece as well as on the Gloucester Rugby Club Roll of Honour, the Kingsholm Stadium War Memorial and the Gloucester War Memorial.