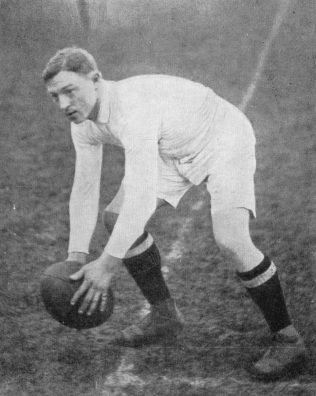 Alfie Wood had a relatively short career with Gloucester, initially experiencing difficulty in breaking into the team, and having to change positions from half-back to full-back. But his talent shone through and he won international caps with both Union and League codes of rugby. When compiling his greatest Gloucester team of the previous 40 years in 1930, WB chose A E Wood as the best full-back of that period, and commented that he was "one of the best full-backs of all time".
Alfred Ernest Wood was born on 27th November 1883 in Wolverhampton, the son of a railway engine driver. By 1891, the family had moved to Newton Abbot, Devon, and they remained there in 1901, when Alfie, aged 17, was working as a locomotive engine fitter's apprentice.
Alfie had previously played rugby for Bristol, but transferred to Gloucester for the start of the 1905-06 season, playing in the first game of the season against Clifton at Kingsholm on 23rd September 1905. Before this match kicked off, the new Gymnasium was formally opened – this is the oldest building still standing at Kingsholm, and is now known as the Lions' Den. Alfie made an immediate impact on the field of play, scoring 3 tries in the 29-0 win over Clifton, followed that up the following week with 2 tries and a conversion in the 17-6 victory over Bristol, and added another try in the fourth match, a 9-3 win at Northampton.
Alfie had to grasp every opportunity he could to play at half-back, where he was competing with Dai Gent, perhaps the most talented player in the side and an England international. Alfie could also play at full-back, but there he was up against George Romans, who had made the position his own for the best part of 10 years, was the Club's first choice kicker, and had been captain for 4 ½ seasons. Alfie also suffered injury which rendered him unavailable almost as soon as he had made his mark. Nevertheless, the selectors were clearly keen to accommodate him whenever they could, and he went on to appear in 16 matches that season, scoring 7 tries. He also turned out for his one and only game for the "A" team at Swindon on 17th February 1906, when he played at half-back and kicked 3 conversions in a 27-8 win.
The fifth game of the season was the greatest in Gloucester's history, when the All Blacks came to Kingsholm. The Gloucester Selection Committee, in their wisdom, decided to play only seven forwards, their opinion being that an extra half-back would be more useful to the side than a wing forward. Alfie was selected as the third half-back, alongside the regular pair of Jimmy Stephens and Dai Gent. The plan backfired, and Gloucester were overwhelmed to the tune of 44-0; their cause not helped by injuries, most notably to Arthur Hudson and Alfie Wood (there were no replacements in those days, and New Zealand scored all their points whilst Gloucester were playing short), but as Dai Gent later reminisced "we were too light – that was the chief reason they beat us by a cricket score – they simply trod on us and went on!"
The match report suggests that Alfie was heavily involved in the play, mentioning that "From near mid-field Wood intercepted grandly and whipped out a wide pass to Hudson, who dashed down touch….Gallagher being penalised for off-side Wood kicked to Wallace, who returned finely….The visitors tried hard to effect some outside play, but Wood with a beautiful tackle stopped the movement….Some very fine kicking by Wood kept Gloucester in a good position….Wood twice saved apparently certain scores by grand tackles" until unfortunately Alfie's game came to a premature end – "Restarting, Gloucester gained a footing in their opponents' 25, where Wood, in tackling Gallagher, twisted his ankle and had to be carried off the field."
In commenting on the match, WB wrote in the Citizen that: "Again it might be mentioned that it was not until Gloucester were a man short – Wood having gone off – that the team showed signs of falling away….Wood and Stephens rendered a good account of themselves, the ex-Bristolian doing an immense amount of work. It was a pity he was injured late in the second half, for Gloucester cannot afford to lose his services for long."
Alfie's only other try for Gloucester in 1905-06 came in the County Cup Final at Kingsholm on 24th March 1906, when it was Gloucester's only score in a 3-9 loss, which was very disappointing after Gloucester had won both of the normal club fixtures. WB summarised Alfie's first season with Gloucester as "Gloucester had the assistance on a number of occasions at half-back of A Wood, a strong individual player of proved ability. Quite early in the campaign Wood sustained an injury to his ankle, which kept him out of the field for some weeks, and after this a regular place could not be found for him."
Fit again for the 1906-07 season, Alfie once more started with a bang, scoring a try in the first match of the season, a 6-0 win over Lydney, and another try and 2 conversions in the second match, a 27-3 win over Clifton. They proved to be his only tries of the season, largely caused by his again finding it difficult to gain a regular place in the side, until the selectors decided that he should replace George Romans at full-back. There was some ill feeling surrounding the replacement of George, a Kingsholm favourite and long-term distinguished servant of the Club. At the end of the season, WB commented that "The season has witnessed the resignation of George Romans at full-back, after long and valuable service to the Club. The circumstances of the veteran's defection occasioned a good deal of regret, but no useful purpose will be served by re-opening an old wound. All the same it seemed a great pity that Romans' severance with his old Club should have been attended by any unpleasantness. He was succeeded in the position by A E Wood".
From 12th January 1907, Alfie made the full-back berth his own, and took over the kicking duties – he slotted 24 conversions and 2 penalties in his 21 appearances during the remainder of the season. WB was impressed: "A E Wood is a player of marked ability, and one of the finest custodians in the country. A magnificent kick with either foot, fearless in stopping rushes, and a deadly tackler, Wood has served the Club admirably, and in several matches he was the salvation of the side. Wood appeared for the county, and his display against the South Africans was highly commented on by visiting critics. With Jackett (Leicester and Cornwall) maintaining his form, the City custodian had no chance for his International cap, but he was in the running as reserve, and another season he should stand a good chance of getting into a representative team."
During 1907, Alfie married Rose Clarke in Birmingham.
Alfie got the 1907-08 season off to his usual good start, kicking 4 conversions and a penalty in the 38-10 defeat of Clifton in the first match. However, part way through the season, he decided to join Cheltenham. He played his last game for Gloucester on 27th December 1907 against Old Edwardians at Kingsholm – he contributed 3 conversions to the 24-11 win. Alfie had played only 2 ½ seasons for Gloucester, making 48 appearances, and scoring 9 tries, 39 conversions and 4 penalties for a total of 117 points. Despite this relatively short career, he had certainly come to be highly regarded by the Club, which continued to treat him as one of their own.
Shortly after his last game for Gloucester, Alfie was selected to play for England against France, Ireland and Wales. WB maintained that "Wood, was a member of the City team when he first received International honours", even though by then Cheltenham also claimed him as theirs. Alfie's association with Cheltenham was very brief, because a week after Alfie's third (and as it turned out, last) Rugby Union International on 15th February 1908, he attended the last of three Rugby League internationals between the touring New Zealand "All Golds" and England, as a spectator. This match was played at the Athletic Ground Cheltenham and was the deciding game, the first at Headingley being lost 6-14 and the second at Stamford Bridge being won by the tourists 18-6. New Zealand won the third match at Cheltenham 8-5 to take the first-ever series. Alfie Wood was recognised at the match and approached by the Oldham committee, and he signed to play for them from the start of the 1908-09 season. However, this immediately rendered him ineligible for the final Rugby Union international of the season. Reporting on the England v Scotland international the following month, The Times said that Lyon the full back in that match was "hardly a substitute for A E Wood, the Gloucestershire man."  The flirtation with Cheltenham, and the impending transfer to the North, seem to have made little difference to Gloucester, and in April 1908, the Club hosted a dinner in honour of their Internationals that season – Hudson and Wood – at which Alfie was duly feted.
The 1911 census records Alfie as a professional footballer, living in Oldham with his wife, Rose, and their three young sons; a daughter was born in 1912.
Alf Wood (as he was known up North) played for Oldham until 1920-21. He would have felt at home with the club as Oldham played in red and white hoops and their leading player "Mad" Arthur Smith, who played in the Cheltenham international against the "All Golds", had played Rugby Union for Cinderford. Alf went on to play Rugby League internationals for England (twice) and Great Britain (4 times).
Alfie died at Oldham on 15th February 1963, exactly 55 years after his first encounter with Rugby League on the Athletic Ground Cheltenham.
[I am grateful to John Theyers for helping with the research on the sequence of Alfie's career when he left Gloucester, to Chris Collier for his career statistics, and to John Cowen for his family history details.]