Carpenter, Alfred Denzel "Bumps"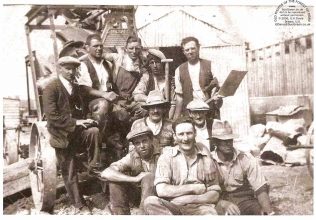 Old Photos of Cinderford & District: Ivor Evans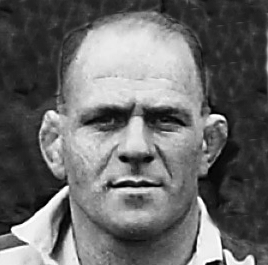 Alfred Denzel "Bumps" Carpenter was a remarkable ageless hooker, who was as tough as teak. His playing career spanned Cinderford, Gloucester, Gloucestershire, Barbarians and England. He spent most of his life in the mines, mainly in the Forest of Dean, and never let it be forgotten that he regularly walked to and from the pit before a game. His commitment was well summarised as "a player and a half by any standards, and what a club man".
"Bumps" was born in Mitcheldean in 1900. He played rugby continuously from the age of 15 to 43, and he felt that he would have had 2/3 more seasons if WW2 had not intervened – although he was by then of an age which meant he was not obliged to sign up, he chose to do so, volunteered for the RAF, and fought for 2 years.
He worked at Lightmoor Colliery in the Forest, and won the "Dinky" Cup, which was competed for by colliery teams. He started his rugby career with Cinderford, but moved on to Gloucester, and played from 1928 to 1940, during which time he made 336 appearances.
He played for Gloucestershire in 5 County Championship finals, winning 4 of them. He was selected twice for the Rest v England, and proudly recalled "we beat 'em once". He was selected as a reserve for England more than 20 times (the last time at age 38) , but his appearance against South Africa in 1932 proved to be his only cap – he started the game as prop but finished it as a hooker. He was the first player from the Forest to play for England.
"Bumps" was well respected – a hard man with huge hands, respected for his fitness, stamina and strength, who liked a fight. Wilf Wooler called him "a remarkable player, a typical West Country forward and a true Gloucester club forward". After retiring from senior rugby, he returned to his roots in the Forest, supporting local clubs. He had the pleasure of packing down with two of his sons, George (Lydney) and Denzel (Cheltenham), who also enjoyed successful rugby careers, both representing Gloucestershire. He died in 1974.