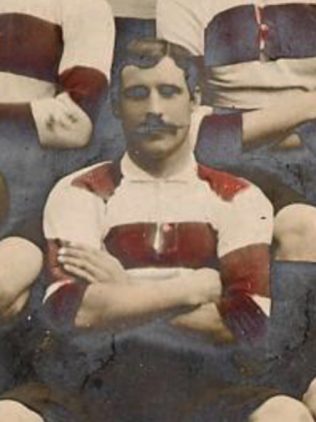 Arthur William Miles Stephens was born in 1869, the son of George Stephens, a coach proprietor in the Forest of Dean. He was the eldest of six brothers, of whom three played rugby for Gloucester. By 1881, the family had moved to 13, Alma Place, South Hamlet, Gloucester.
Arthur started playing for the Gloucester Second XV during the 1889-90 season, his first appearance being against Gordon League. In 1891, William was still living with his parents, who had moved to 7, Ladybellgate, St Mary de Crypt, and he was employed as a dock labourer. He played two more full seasons, 1890-92, with the Second XV, and made his debut for the First XV in the penultimate fixture of the 1890-91 season on 21st March 1891 at Penarth. He was the leading try-scorer with twelve for the 2nd XV in 1891-92, and made four further appearances for the senior side, scoring his first try against Cardiff on 27th February 1892, which won the game for Gloucester as the only score in the match; the Citizen reported "Stephens scored the only try of the match as a result of a rush which Ball originated in a throw-out near the half-way early in the first half". Unfortunately Arthur's appearance in this match was the result of tragic circumstances, Tommy Bagwell having to withdraw from the team due to the death of his little daughter from scalding.
In 1892-93, Gloucester had a crisis at half-back with the retirement of S A Ball and the loss of form of W George. Several replacements were tried and found wanting, so "finally, Bagwell was from centre three-quarter to his old place" at outside half, " and a confrere was found for him in A Stephens, who, considering he had never played in the position before" at scrum-half, "performed with great credit, he being exceptionally strong in defensive tactics". He was more regularly selected, making 16 appearances and scoring a try at Bristol on 11th March 1893, which secured a draw at one try apiece.
But it was not until 1893-94 that Arthur became a first choice player, appearing in 26 of the 28 fixtures, and scoring tries against Old Edwardians, Runcorn and Penarth. He also kicked his first points for the Club, converting Hooper's try in a 5-0 win at Coventry on 23rd December 1893. It was noted that "Stephens has greatly improved since last year, and the Club was certainly fortunate in being able to claim the services of such a smart and clever player."
These performances brought Arthur to the attention of the County selectors, and he made his debut for Gloucestershire at Bath on 28th October 1893 in a 5-6 defeat by Somerset. He won a second cap against Cornwall at Penzance on 6th December, with Gloucestershire losing 0-16.
In 1894-95, Arthur's season was disrupted by injury, so he made only 18 appearances. WB reported in the Citizen that "Stephens, after the injury he sustained at Swansea early in the season, showed a sad falling off in form, and never appeared to recover himself. Though nearly always relieved of the donkey work, he failed altogether to make openings for those behind, being much too slow in getting away and frequently making bad mulls. It is hoped, however, that the rest during summer will prove beneficial to Stephens, and that next season he will be able to exhibit the excellent form which he showed in 1893-94." He played in the early season County trial, but managed only the final Gloucestershire game against Surrey at Richmond on 6th March 1895, which the home team won 18-4.
For the next three seasons, Arthur was more regularly available, making 23 appearances in 1895-96, and 26 in both 1896-97 and 1897-98. At the end of the 1895-96 season, the Citizen reported "with regard to the half-backs, Stephens and Morgan had a lengthened partnership, but whereas the former fully regained his splendid form of a couple of seasons ago, his colleague has not been the success anticipated. Nothing can be said against Morgan's pluck (small as he is), but he has hardly proved himself equal to the class opposed to him, and certainly at times showed a distinct tendency to hug the ball. Stephens, on numerous occasions played a champion game, making openings innumerable, but he was badly supported by the three-quarters. During the season Stephens received a tempting offer to join the Halifax Club, under the banner of the Northern Union, but the city and county half-back decided not to accept the invitation."
He won four further county caps in 1895-96, playing against Somerset, Devon, Cornwall and Surrey, but Gloucestershire were not a strong side at the time, and all four games were lost. The following season, Arthur played against Midland Counties at Moseley, and won his last county cap against Somerset at Bristol on 5th December 1896. He finished his county career with nine caps, but unfortunately tasted defeat on every occasion.
In the Citizen, WB declared the 1897-98 season to be "a memorable one, and one that may very well be regarded as among the most brilliant in the history of the Club" whilst also claiming that "Gloucester is the only team in England unbeaten by an English club; whilst another fact of which Gloucestrians might well be proud is the retention for another year of the club championship of the County". Of Arthur himself, WB wrote: "A Stephens and Car Cummings have operated at half-back with varying success. At times both have been below par, but at their worst they were infinitely better than any other pair in the City. Stephens has now and again shown flashes of his old brilliance." He scored what would prove to be his last try for the Club against Penygraig on 11th April 1898.
Arthur retired from the game early the following season, playing his final game on 22nd October 1898 in a 6-0 victory over Exeter at Kingsholm. At the Club AGM in the summer of 1899, Arthur was recommended to the Committee for life membership of the Club.
In 1901, Arthur, by then a bricklayer, was living with his widowed mother at 2, Farm Street, St Paul, Gloucester. He married Elizabeth Freeman, daughter of a builder, on 23rd March 1908 at Twigworth. The following year they had a son, Eric James "Dick" Stephens, and by 1911 they were living in rooms at the Kingsholm Inn. Their son followed in his father's footsteps and played 56 games for Gloucester, 1926-31; he was also a first class cricketer, who played 216 games for Gloucestershire, 1927-37.
Arthur's brothers who played for Gloucester were Jimmy and Sidney. Two nephews, Tom and Jack, sons of another brother, Tom, also played for the Club. Another nephew, Jim, son of Jimmy, played for the Club's Second XV. Jim's son, Eric, Arthur's great nephew, enjoyed a long and distinguished career for Club and County, 1961-74.
[I am grateful to Chris Collier for providing Arthur's career statistics and to John and Hilary Theyers for research into the Stephens family tree]