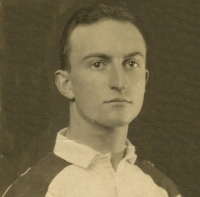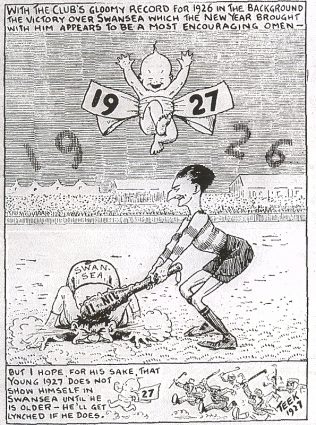 Dick Loveridge was a try scoring winger who, in a career blighted by injuries, played 126 games for Gloucester, scoring 43 tries. In 1926-27 and 1927-28 he was club vice captain and was capped three times by Gloucestershire. On his retirement Loveridge served on both the Club and Ground Company Committees for over 20 years.
Richard Nugent Loveridge was born in Gloucester in 1904. His father Frederick was an auctioneer and the family lived in Worcester Street, close to the Kingsholm ground.
Loveridge played for Gloucester Old Boys before making his Gloucester debut in 1923. He took time to become a regular first choice, from the beginning his slight build and susceptibility to injury telling against him.
At the start of the 1925-26 season, Bill Bailey (WB) wrote in the Citizen "Loveridge has not apparently put on much weight since last season and when coming into contact with bigger and heavier opponents he naturally suffers. Still, he is so desperately keen on the game that one would like to see him do well…. Of pluck and dash he possesses an abundance." Two weeks later, after scoring the winning try against Moseley in a 9-7 victory, he broke his collar bone. He scored 11 tries in just 13 games, finishing the season with two tries at Devonport Services in a rare 16-9 win.
Dick Loveridge was appointed vice captain under Tom Voyce in 1926-27 and captained the side in December and January in Voyce's absence. A notable 11-0 victory over Swansea on New Years Day 1927 inspired a Teek cartoon of Loveridge who was a favourite of the cartoonist and was frequently caricatured in the Citizen.
He had played for Gloucestershire against Yorkshire, Devon and the touring Maoris in the autumn of 1926-27, but he was stretchered off towards the end of the Maoris match and, late in the season, suffered a back injury which seemed likely to end his career. WB, in his end of season review, said "R N Loveridge during the time that he was available was well up among the try scorers. There is no more enthusiastic player than the vice captain and his bad luck in the matter of injuries is a sad disappointment to him."
Vice captain again in 1927-28 under Les Saxby, he was injured in the second game of the season at Northampton, WB again describing him as "the unluckiest of players". He came back briefly but then serious illness put an end to his season and kept him out of the game for nearly a year.
In September 1929, Loveridge, at last fully fit, forced his way back into the Gloucester side and played throughout one injury-free season. Stronger and heavier than before, he was now also slower but, although he could not repeat his previous try-scoring performances, he played in most of Gloucester's major triumphs that season.
The following two seasons were again limited by injuries, however, although he did play full back in an early 7's exhibition game at Bristol in September 1930 and took part in notable wins over Quins and Leicester the following year. His try in the 12-6 victory over unbeaten Leicester at Kingsholm in October 1931 was described by Bill Bailey in the Citizen as "as good a try as one could wish to see." In January 1932 he suffered a leg injury playing for Gloucester United against Bath, which eventually put paid to his playing career.
Retiring at the end of the 1933-34 season, R N Loveridge was immediately elected to the GRFC committee and remained a member until 1958. When Sidney Starr resigned in 1944, Loveridge also became Secretary of the Gloucester Football and Athletic Company, a post he held until 1963. He died in Penzance in 1987.