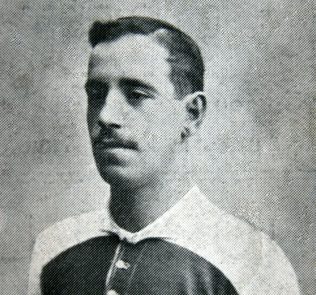 Richard Goddard, known as "Dicky", was born in Gloucester in 1879, the son of a waterman, corn porter and dock labourer. In his childhood he lived at 15, Clare Street, St Mary Lode.
The regular pair at half-back for the City in 1897-98 was Arthur Stephens and Car Cummings, but the form of neither was so consistently good as to assure their place in the team, and Dicky was selected to play on 10 occasions, whilst also turning out 13 times for the "A" team. However, WB clearly thought he was not ready for senior rugby, commenting at the end of the season that "Goddard is looked upon as a promising half-back, but is hardly seasoned enough to take the gruelling that is dealt out in a first-class match."
In 1898-99, the Gloucester team enjoyed a very successful season, the record being won 27, lost 6, drawn 1, with points for 300 and against 116. WB summarised it as "a brilliantly successful season, and one which will form one of the brightest chapters in the history of the Club". Dicky played in 14 of those 34 fixtures, and scored two tries, one of which was particularly memorable – on 14th January 1899, when Gloucester won a famous victory 6-3 at Llanelly, the Club's first taste of success at StradeyPark. The Citizen reported that: "The news of the win was received by a numerous crowd, which had assembled on the Cross.  The city team will not arrive in Gloucester till midnight, but arrangements have been made for a brass band to meet them at the railway station." Dicky had arrived. At the end of the season, WB wrote: "The retirement of Arthur Stephens at half-back early in the season caused the Club to look round for a partner for George Hall. The choice of the Selection Committee fell on Dicky Goddard, who adapted himself to the position with so much success that he quickly made his place in the team a certainty. Unfortunately Goddard got knocked out early in the present year, but a capable substitute was discovered in Bert Parham. Of the three players, Goddard was undoubtedly the cleverest of the lot, being remarkably active in opening out the game, a smart kick, and sound in defence."
1899-1900 saw Dicky command a regular place in the side, playing in 27 of the 32 fixtures. In September he scored a try in the 21-0 win over Bath, and two weeks later kicked the conversion of Jim Cook's try which gave Gloucester a 5-4 win at Blackheath, described by WB as "A terrific struggle, Gloucester playing the game of their lives. Victory was thoroughly deserved. Defence of the City team was a feature of the match." Over the Christmas/New Year period he scored 4 tries in 3 games against Clifton (2), Old Merchant Taylors and Penarth. Late in the season he scored another against Treherbert to bring his total to 6. Summarising his season, WB wrote "At half-back, Gloucester were particularly well served, as in Goddard and G Hall they had two first-class players. Individually, Goddard stands out conspicuously for extreme cleverness and resource, and seldom indeed has the Gloucestrian had to take second place. He has been well backed up by Hall, and the two together made as strong a pair of half-backs as any we have seen this season. The only fault that could be urged against the two players was a tendency to hug the ball a bit too much, but this was remedied in the few closing fixtures with the results already known." [Gloucester won 7 of their last 8 matches.]
In 1900-01, Dicky played in all but one of the Club's 34 fixtures (nobody played more), and contributed mightily to a very successful season, the record for which was won 24, drawn 5, lost 5, points for 522 and against 75. Dicky scored 10 tries and kicked 4 conversions and a dropped goal. He scored home and away against Clifton, along with several of his teammates, the two games resulting in a cumulative score of 130-3 in favour of Gloucester. Perhaps his most important tries were scored towards the end of the season in the 6-0 win over Leicester and the 6-3 win over Swansea. WB summarised Dicky's season as follows: "Gloucester were, perhaps, never better served at half than by R Goddard and G Hall, and if there is a better couple playing under the Rugby Union, they have not been seen at Kingsholm. The perfect understanding which existed between the "midgets," as they are popularly known, gave them an immense advantage over some of their opponents, and their combination at times was a treat to witness. As outside-half, Goddard performed brilliantly, combining cleverness with sound judgement and infinite resource."
He did not play for the County, but was given an England trial in the second match between the South and the North. Unfortunately he did not catch the eye of the selectors sufficiently to win an international cap. WB was not amused by this oversight, and lamented in the Citizen that "Had a club pair of half-backs (the Gloucester or Devon Albion couple) been operating behind the English forwards at Cardiff last January, we hardly think Wales would have triumphed by 13 points to nil."
In the 1901 census, Dicky is shown as age 21, single, still living with his parents in Clare Street, and employed as a plumber.
The 1901-02 season was to prove to be Dicky's last for Gloucester. He played in 22 matches, and scored 4 tries – in a 9-0 win at Northampton, in an 8-0 win over Richmond ("Goddard's try was the result of a brilliant individual run"), in an 11-6 win over Bristol, and in an 8-3 win over the Rest of the County. WB summarised the season's performance as "With Goddard and G Hall in charge at half-back, Gloucester had nothing to fear, for with matters even forward the City pair were able to hold their own with any couple. Both players have exhibited brilliant football, and with the three-quarters up to last season's form Gloucester's record would have …
Dicky won County caps against Midland Counties, Somerset and Devon, before appearing in the County Championship Final. This was played in fearful conditions, with heavy storms producing a quagmire at Kingsholm on 5th April 1902, and Durham prevailed 9-3 over a Gloucestershire side containing 8 Gloucester players. The England selectors again looked at him in two trial matches, when he played for the Rest of England against the English Team, and for the London & Varsities against the Rest of the South, but an international cap continued to elude him.
Dicky finished his time at Gloucester with 110 appearances, 22 tries, 7 conversions and 1 dropped goal amounting to 84 points. He left to go North to play professionally for the Hull Rugby League Club, alongside his former Gloucester teammates Jim Cook, George Hall and Jack Lewis. But he ended up back in Gloucester.
In 1906, Dicky married Laura Elizabeth Taylor in Gloucester, their daughter, Mary was born in Gloucester in 1908, and by 1911 the family were living at 52, Priory Road, Gloucester. Dicky died in Gloucester in 1949, aged 69.
Dicky's younger brother, John Goddard, born in 1888, played 7 games at half-back for the Gloucester 1st XV, 3 in 1905-06 and 4 in 1909-10.
[I am grateful to Chris Collier for supplying the rugby career details, and to John Cowen for the family history records, contained in this profile.]