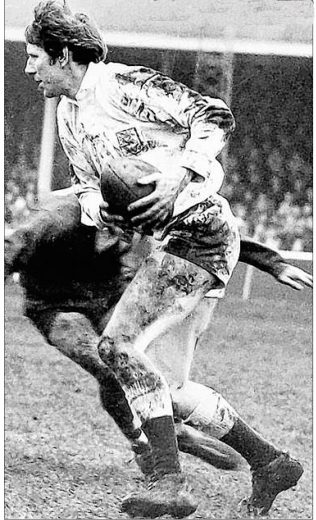 Eric Stephens played 221 games for Gloucester and is best remembered as a record breaking full back of exceptional place kicking ability. However, he also played wing, centre and outside half and on one occasion wing forward. His games for Gloucestershire included two County Championship Finals.
Eric Stephens was born in Gloucester in August 1939 into a remarkable rugby and cricket playing family. His paternal grandfather John James "Jimmy" or "Jummer" Stephens was a three quarter and halfback who played 321 games for the club before the 1st World War and his great uncle Arthur Stephens, who was six years older, played 144 games at half back and full back in the 1890s.  His mother's father Frank Keys played 27 games for Gloucester at half back in 1902-03 and a further 5 the following season when he married and moved to South Wales where he joined Bridgend. He died in 1907 aged 24 from a rugby injury incurred while playing in South Wales. Frank's brother Eric Keys also played for Gloucester RFC and served on the committee.
In the 1920s Eric Stephens's father played for Gloucester United and his father's cousins Jack (94 games for Gloucester before joining Oldham RLFC) and Dick (54 games for Gloucester and over 200 matches as an all rounder for Gloucestershire CCC) played for the 1st XV.
Eric Stephens was educated at The Crypt School and played for Old Cryptians. He joined Gloucester and made his debut in 1961-62 at right centre at Coventry. He scored two tries against Old Blues on his Kingsholm debut in November 1961.
Working in London during the 1962-63 season, he joined the Saracens club, but returned to Gloucester the following year, playing mostly for Gloucester United.
Eric played as a utility back in 1967-68. He started the season at full back understudying his captain Don Rutherford but also played outside half. Following Rutherford's retirement, his breakthrough came in 1968-69 in which he became regular fullback and played 43 games, scoring 306 points.
In 1970-71 Eric Stephens didn't play in September but still managed to play a remarkable 46 games, first at outside half and then at left wing with Ron Etheridge at full back; he reverted to full back when Etheridge was injured. Eric scored 363 points that season. He made his county debut in the final at full back against Surrey at Kingsholm.
In 1971-72 he scored 388 points from 44 games and retained his county place at full back for the group stages. He was replaced for the semi final against Middlesex but played on the winning side at left wing in the final against Warwickshire at Coundon Road. He started the club season on the left wing but again reverted to full back when Ron Etheridge was injured and stayed there for the remainder of the season.
In 1972-73 Peter Butler became first choice full back for club and county, Eric played as a utility backcovering full back in the absence of Peter Butler and Ron Etheridge and outside half and left wing when Etheridge played and a specialist kicker was required. He scored 170 points from only 19 games.
In his last season, Eric Stephens became United captain, Ron Etheridge moved to left wing with Peter Butler at full back and Eric covered the full back position, scoring 75 points in 9 games.
After retirement Eric Stephens served on the club committee in a variety of posts, remaining until the game became professional in 1996. He also became a Gloucestershire selector. He is still heavily involved with the club.