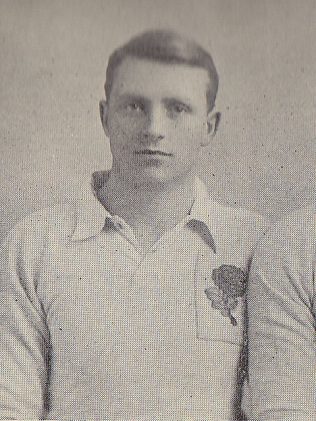 Frank Moxon Stout was born at South Hamlet, Gloucester, on 21st February 1877, the son of William Stout and Emma (née Adcock). His father was director of an Iron and Hardware Company, and ran an ironmonger's shop in Westgate Street, Gloucester; he was also a leading amateur oarsman, who won the Diamond Challenge Sculls at the Henley Royal Regatta and the Wingfield Sculls on the Tideway in 1868, two of the top single sculling events in the UK. He gave second names to his children which had rowing associations. Frank was possibly named after Dr James Moxon, lecturer in law at Trinity College, Cambridge, who coached the Trinity boat to the Head of the River in 1873.
Frank lived at Barnwood, Gloucester, as a boy, and was educated at Crypt Grammar School, where he played association football. He went on to play for Wickwar and Gloucester City, for whom he made 51 appearances and scored five goals, 1893-95. However, at the age of 18, Frank, and his brother, Percy, who was 2 years older, converted to rugby for the 1895-96 season. Frank played a few games at wing forward for Old Cryptians, before joining the Gloucester Club, and he soon started to make a name for himself in the handling game, under the captaincy of Charlie Williams.
His debut for Gloucester was in the first game of the season, lost 0-3 to Cardiff & District at Kingsholm on 21st September 1895, and he immediately became a first choice selection, playing in 24 of the 26 fixtures that season. His talent was soon recognised by the County selectors, and he made his Gloucestershire debut against Devon at Kingsholm on 30th November 1895, and scored a try in each of the two remaining fixtures of the season against Cornwall and Surrey. Frank's first try for the Club was against Coventry on 18th January 1896, although it was put in the shade by his brother, Percy, on the wing, who scored two in the same game.
In 1896-97, representative calls reduced Frank's availability, but he managed 22 appearances, and scored three tries, two of them coming in one match against Clifton on 16th January 1897. He also played a full part in Gloucester's famous 5-3 victory over Llanelly on 3rd April 1897, when the home pack were irresistible in forcing the Welsh club to admit defeat for the first time that season. Frank played in all four of Gloucestershire's games against Midland Counties, Cornwall, Devon and Somerset. Although in only his second season of rugby, and aged 20, his fine form earned him a place in England trials, playing for London and the South against Oxford and Cambridge Universities, and then twice for the South against the North. He impressed and was selected for the coveted international cap ahead of his older brother. He won his first cap, as one of nine England debutants, on 9th January 1897 in the 0-11 loss to Wales at Rodney Parade, Newport. He thus became the first current Gloucester player to be capped by England. He retained his place for the next match on 6th February, another loss 9-13 to Ireland at Lansdowne Road, Dublin, in front of 15.000 spectators. Frank was then dropped from the England side, but this season also saw him make his first appearance for the Barbarians.
Frank turned out fairly regularly for Gloucester in 1897-98, making 21 appearances out of 35 fixtures, and scoring five tries, including two in one match against Cinderford, and all before the end of the year, after which representative demands occupied more of his Saturdays.  He won six more caps for Gloucestershire, playing against Midland Counties, Cornwall, Devon, Somerset, Glamorgan and Surrey, In the last of these he contributed two tries to the 22-3 win, as did his brother Percy. He again played in the England trials for London and the South against Oxford and Cambridge Universities and twice for the South against the North, and went on to play in all three England internationals. The first was a 6-9 loss to Ireland in front of 20,000 spectators at Richmond on 5th February 1898. Then came a 3-3 draw against Scotland in Edinburgh on 12th March (alongside his older brother Percy winning his first cap), and a 14-7 victory over Wales at Blackheath in front of a 20,000 crowd at Rectory Field, Blackheath, in which both Frank and Percy scored a try. Predictably Frank's try was the result of a forward rush, while Percy was on the end of a sweeping set of passes along the back line. This was the first time that brothers had both scored tries in an England match; the next were Rory and Tony Underwood in 1993. The Times report on the match included: "The game of the Englishmen as a whole revived memories of the good days of Rugby football before the fallacious four three-quarter system developed a contagion that has threatened to ruin the old forward style..…at threequarter England have rarely possessed a line so strong in defence and attack as that formed by Bunting, Royde, Percy Stout, and Fookes. These men were altogether too skillful for the Welsh threequarter attack, for they possessed both pace and tackling capacity……England scored their first try through Frank Stout, at the end of ten minutes, as the result of a forward rush, and their second came from a splendid piece of running and passing by Livesey, Bunting, and Percy Stout (the actual scorer)." At the end of the season, WB wrote: "F Stout, owing to County, International, and other engagements, and illness, has not been seen in the ranks of the Club as often as one would have wished, but he has played some sterling games, his best, perhaps, being in the return with Bristol."
1898-99 was the final season in which Frank was regularly available for Gloucester, making 23 appearances and scoring four tries. He also enjoyed a full season for Gloucestershire, winning seven more caps against Midland Counties, Cornwall, Devon (twice), Somerset, Surrey and Glamorgan. He again played in all three England trials, but missed the first international of the season against Wales. England lost heavily and Frank was back for the remaining games of the season, but it proved a dismal season for England as Frank participated in two further losses, 0-6 to Ireland at Lansdowne Road on 4th February 1899, and 0-5 to Scotland at Blackheath on 11th March.
Frank was invited to go on the Great Britain tour to Australia in the summer of 1899, the first official tour to Australia sanctioned by the RFU, and retrospectively classed as a British Lions tour (the Lions nomenclature was not introduced until 1950). The tour was organised by Rev Matthew Mullineux (Blackheath, Moseley and Kent), who had toured South Africa with the Great Britain team in 1896. He was manager and captain, and selected players principally from Oxford and Cambridge Universities, but bolstered the strength of the party with some internationals including Frank. However, of the 21 players who went on the tour, only nine had international experience. The team played in a kit consisting of a jersey with thick blue bands and thinner red and white bands, representing the colours of the Union Jack, with dark blue shorts and blue stockings finished with red and white tops.The team caps were maroon in colour and bore the motif of a kangaroo.  Formal dress comprised a navy blazer, with a breast badge that read "The Anglo-Australian Rugby Football Team". The party left London by rail on 9th May, travelling on by ship from Marseilles to Adelaide, where they arrived on 11th June.
They played 21 matches, winning 18 and losing three. Frank played in every match on the tour, and captained the team in the absence of Mullineux when Toowoomba were defeated 19-5. The first Test against Australia was played on .24th June at Sydney Cricket Ground. Frank played under the captaincy of Mullineux. The tourists were judged not to be fully fit, they tired towards the end of the game, and Australia won 13-3 in front of 28,000 spectators.  Chastened by this experience, Mullineux dropped himself for the second Test, which was played on 22nd July at the Exhibition Ground, Brisbane. Frank took over the captaincy of the Great Britain team, and led them to victory 11-0. He remained as captain for the third and fourth Tests played back at the Sydney Cricket Ground. In the third Test on 5th August, Great Britain won narrowly, 11-10, and in the fourth Test on 12th August, Australia 0 Great Britain 13 sealed the series 3-1. There had been plans to extend the tour to New Zealand, but these fell through.
After these exertions and the long journey home, Frank appears to have taken a break from rugby, although he was back to play for Gloucestershire in their 5-3 victory over Cornwall at Camborne on 4th November 1899, when he was still listed as a Gloucester player. But he did not appear in any Gloucester games during the 1899-1900 season, and transferred his principal club affiliation to Richmond. When he played for Gloucestershire in their 3-16 loss to Devon at Bristol two weeks later on 18th November, he was listed as a Richmond player. Frank later captained Richmond to one of their most successful seasons, and played for Middlesex. Thereafter, Frank made only occasional guest appearances for Gloucester on his infrequent visits back to the City. This amounted to eight appearances spread across the 1900-07 seasons, playing his final game on 28th December 1907 against Cheltenham. He continued to play regularly for Gloucestershire in the County Championship until the 1904-05 season.
Despite his status as a victorious British Isles captain, and taking part in the Barbarians tour of Wales at Christmas 1899, Frank did not appear for England, and therefore missed the first international match played at Kingsholm, England against Wales in January 1900. He also spent some time with his brother in Egypt. Frank was next selected for international honours in the final game of the 1903 Home Nations Championship, when England lost 6-10 to Scotland at Richmond on 21st March 1903.
In the summer of 1903, Frank toured South Africa on his second British Isles (Lions) tour, when his club affiliations were listed as "Barbarians, Richmond & Gloucester". The tourists won eleven and drew three of their 22 games. Such success as they enjoyed was down largely to their pack, including Frank, who played in all three Test matches. The first, played at the Wanderers Ground, Johannesburg on 26 August 1903, was drawn 10-10. The second played at the Athletic Ground, Kimberly, on 5th September, was also drawn, 0-0. The decider at Newlands Stadium, Cape Town on 12th September, was won 8-0 by South Africa.
Around this time, the RFU had been facing mounting criticism of their methods of selection for the national team, which was widely regarded as being very London- and Oxbridge-centric. It was therefore decided that a new approach should be adopted for the 1903/4 season. The first England game was against Wales, and "as the clubs of the West, through their regular intercourse with Welsh football, play practically the Welsh game it has been decided that the first trial match….shall be a bona fide West of England team against the Rest of the South (including Oxford and Cambridge). For the selection of this West of England fifteen a committee of three experts has been appointed consisting of Mr T C Pring, Mr S M J Woods and Mr Frank Stout. In delegating the powers of selection to this body of experts, the Rugby Union Committee are confident that they are conceding chances to West of England rugby football which this district of England has not before enjoyed." Following this experiment, Frank was not only selected to play for England in the 1904 Home Nations Championship, but was given the captaincy. England drew the opener 14-14 against Wales at Welford Road, Leicester on 9th January, Frank kicking the conversion of one of the England tries. Although he played in the remaining two games of the tournament, John Daniell took over the captaincy for the 19-0 victory over Ireland at Blackheath on 13th February, and the 3-6 defeat by Scotland at Inverleith on 19th March.
Frank was restored to the captaincy of England for the 1905 Home Nations Championship. The campaign started badly with defeat 0-25 at the hands of Wales 14th January 1905 in Cardiff, and hardly improved with further defeats by Ireland, 3-17 in Dublin on 11th February, and by Scotland, 0-8 at Richmond on 18th March. This marked Frank's final international cap.
Frank's career record for Gloucester was 98 appearances, 17 tries and three conversions. He won 43 caps for Gloucestershire, scoring four tries. He played in ten international trials, won 14 caps for England (four as captain), and seven for the British Lions (three as captain, all of which were won). The Citizen described him as "a firm believer in strict training, and few players turned out in a fitter condition. A clever dribbler, he was very fast with the ball, and always followed up with characteristic dash."
During the war, Frank initially enlisted in the Artists Rifle Corps but on 7th September 1914 he obtained a commission as a Second Lieutenant in the Cavalry Reserve, and was transferred to the 20th Hussars and landed in France in April 1915.  He was promoted to Lieutenant in August 1918 with seniority from 6th July 1916, and served as the battalion's Machine Gun Officer. Frank was awarded the Military Cross on 15th March 1916, for which the citation in the London Gazette read: "For conspicuous gallantry and resource. When he heard of an enemy working party in the vicinity, he took a corporal [George Tester] and light machine-gun down a sap, mounted the corporal on his back to enable the latter to fire over the parapet, and opened fire. Later, mounted on the corporal's back, Lieutenant Stout opened fire, although by this time they had been discovered. Next morning fourteen dead enemy were counted and more must have been wounded". The events were recorded and published, along with a black-and-white print, in a volume recounting acts of heroism from the First World War.In April 1917 Frank was badly wounded three times and although contemporary newspaper reports assured the readers that the wounds were 'slight', they affected him for the remainder of his life. At the end of hostilities Frank was transferred back to the 20th Hussars from the Machine Gun Corps and promoted to Captain. His battalion formed part of the Cavalry Corps of Sir Henry Rawlinson's Fourth Army which was tasked with the occupation of the Cologne bridgehead, but remained an invalid for the rest of his life, and died on 30th May 1926,aged 49, at Storrington, Sussex. He is commemorated in a stained glass window at St Philip and St James Church, Hucclecote, Gloucester, on which he is depicted as Saint George. Click here for a better resolution version of the images.