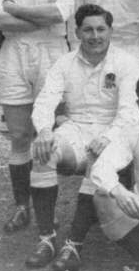 George William Hastings was born in Dursley on 7 November 1924 and made his debut for Gloucester in the 1947-48 season. He took a couple of seasons to become a regular in the Gloucester side but then remained so until his retirement in 1959-60. He started his career as a utility forward but went on to become one of the great England props. He was Gloucester captain in 1954-55. He made 260 appearances for Gloucester and was capped 13 times by England.
Hastings played many times for Gloucestershire throughout his career, culminating in a County Championship Final against Warwickshire in April 1959. He captained the county on occasion. He played for Western Counties against the All Blacks in 1953-54.
The following season he played in all three England trials before gaining his first cap against Wales at Cardiff. The Times said of his selection "the powerful Hastings of Gloucester, as a lusty forward, is well worth his place, but is not everyone's idea of a front row prop." He went on to play in all four matches in the Five Nations Championship that year, scoring a try against Ireland.
In 1955-56, he played for the senior side in all three England trials but was not selected. In 1956-57, however, he played for England's grand slam winning side in all four Home Internationals and again in 1957-58, when England retained the Championship, he played in all four Home Internationals and against Australia.
Although George Hastings missed selection for the Lions tours of 1954 and 1959, he played no less than 20 times for the Barbarians, playing first on their Easter tour of South Wales in 1954-55 and touring Canada and South Africa in 1957-58.
He announced his retirement in 1959 but returned to play for Gloucestershire against Cornwall and occasional games for Gloucester.
The Times said in 1960: "C R Jacobs and G W Hastings helped to form the best front row that England have had since the war."