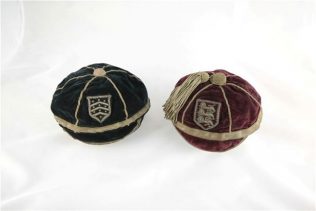 Photograph courtesy of his great grandson Cedric McMillan
John William Bayley was born in March 1862 at Upton St Leonards and educated at The Crypt School Gloucester. He played for Gloucester and Gloucestershire from 1878 to 1885.
J W Bayley was a forward who was famed for his low hard tackling, which earned him the name of "Down 'em Bayley" in his playing days. He was a member of the Invincibles side of 1882-83 which went through that season without losing a game.
He is believed to have made his debut for Gloucester in the first match of the 1878-79 season against Cheltenham White Cross at The Spa ground, Gloucester. He was aged 16 1/2. For the following six seasons he was a first choice for the club and his name appears on the first six Honours Boards from 1879 to 1885. His games for Gloucestershire include matches against Monmouthshire at The Spa on New Years Eve 1881 and against Kent at The Spa on 22 December 1883.
He was president of the Old Cryptians club in 1923 and for 11 years was hon. treasurer.  He was also made a life member.
Rugby was not his only sport, for as a young man he was a member of the Gloucester Rowing Club crews and won several cups.  He also had trophies for shooting and was an original member of the Kingsholm Tennis Club.
After retiring from the game he served on the Gloucester committee and attended matches at Kingsholm throughout his life. At the time of his death in Gloucester in 1948 at the age of 86 he had become the Grand Old Man of Gloucester Rugby.