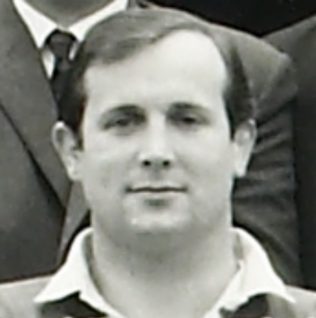 Combative Welsh Lock or No 8
1967-1978,
235 appearances
Jim Jarrett was a rugged and mobile lock and No.8 who played for Gloucester, Pontypool and St. Lukes College. He played for Gloucester in the 1971-72 Knockout Competition Final at Twickenham and for Gloucestershire in the 1969-70 County Championship Final, captained the combined Pontypool, Cross Keys and Newbridge team to victory against the 1966-67 Wallabies and played for Southern Counties against the 1972-73 All Blacks.
James Spencer Jarrett was born in Pontypool in 1941. He was educated at St Lukes College Exeter where he played No. 8. In 1962; he took part in the annual match against Loughborough Colleges, playing alongside fellow student, full back Don Rutherford.
Leaving St Luke's,  he joined  Pontypool, where he became club captain. He moved up to lock from No. 8 while with Pontypool, playing against Gloucester at Kingsholm at No. 8 in November 1963 and at lock in December 1966. On 29 November 1966 he skippered a Combined Pontypool-Newbridge-Cross Keys XV to a 12-3 victory against the 1966-67 Wallabies. The irate Australian manager Bill McLaughlin described it as "the worst performance by an Australian team…probably in the history of the game" but The Times said "This shows how mistakenly he underrates the powerful, experienced Welsh opposition" and praised the tackling of Jarrett among others. He made his debut for Gloucestershire that season, while still a Pontypool player, having previously appeared for Monmouthshire.
On his arrival at Kingsholm in 1967, Jim rejoined his former teammate Don Rutherford, now Gloucester club captain, and formed an outstanding second row partnership with Alan Brinn.  He played his rugby hard and gave and asked no quarter.  His aggressive style sometimes offended the sensibilities of some referees, but he was a firm favourite with the Shed.
In a game at Bristol in September 1968, Jim scored a rare goal from a mark. Catching a Bristol drop-out and calling for the mark, he then pointed to the posts and coolly dropped a goal from fully 45 yards.  Inspired by this, Gloucester went on to win the game 9-6. The following December, he played against his old club in Pontypool, where he scored two tries in a 14-9 win.
Jim made 38 appearances for Gloucester in their record-breaking 1971-72 season under Mike Nicholls, playing in the epic knockout competition quarter-final victory over London Welsh and the victory in the final at Twickenham against Moseley.
He played 10 times for his adopted county of Gloucestershire and appeared in the losing Championship final against Staffordshire at Burton on Trent in 1970. After that final loss, he transferred his allegiance to Dorset and Wilts. He played for Dorset and Wilts against Gloucestershire in the 1971 County Championship ¼ Final and represented Southern Counties against the 1972-73 All Blacks.
In his later seasons at Kingsholm, he moved back to No. 8, often partnered by John Watkins and John Haines. In 1976-77, now in his mid-thirties, he became 2nd XV captain.  His final game for Gloucester was at  St Ives on the 1978 South West tour. Jarrett had a fine Welsh voice and would often lead the singing.
Jim Jarrett served on the Gloucester Committee for many years until the introduction of  the professional game in 1996. Retired and spending time at his property in Spain, he still maintains his links with both his former clubs.