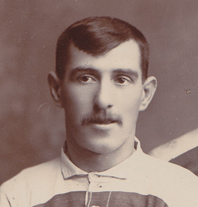 John James Stephens was known to family and close friends as "Jummer", but was generally referred to by fellow players and the press as "Jimmy" or "Jim". He was born on 8th April 1875 at Newland, Coleford in the Forest of Dean, the son of George Stephens, a coach proprietor. By 1881, when Jummer was 5, the family was living at 13, Alma Place, South Hamlet, Gloucester. Ten years later in 1891, they had moved to 7, Lady Bellegate Street, Gloucester, and Jummer was working as a brass turner.
His early rugby was played at centre for a local junior club, the Tredworth Stars, but he later moved on to the Gordon Wanderers (a club for whom he also played cricket). From there he came to the attention of the City club, and was selected to play for Gloucester A against Old Edwardians A from Birmingham at Kingsholm on 22nd December 1894, a game which Gloucester won 18-0, including a try by Jimmy. He made 10 appearances for the A team, but by the end of that season he had also made his debut for the first team on 16th March 1895 at Kingsholm, when Weston-super-Mare were defeated 11-0. This was his only first team appearance that season.
The following season, 1895-96, he remained primarily an A team player, for whom he made at least 10 appearances and did some of the kicking, registering his first points for the Club with a dropped goal against Old Edwardians A on 19th October 1895. In the second half of the season he made 3 appearances for the first XV against Forest of Dean (when he played alongside his brother, Arthur, who scored a try in the 8-6 win), Weston-super-Mare (again alongside Arthur who again scored a try in the 8-3 victory), and Penarth (when Arthur went off injured just after half-time, and Gloucester lost 3-5).  Thereafter Jimmy largely dropped out of Gloucester rugby for 3 seasons, although he made one appearance for Gloucester A in 1897-98, and another 3 in 1898-99.
In 1899-1900, Jimmy broke through into the first team on a regular basis, and played in 21 of the 32 fixtures, scoring tries against Cheltenham and Cinderford, and kicking a conversion against Stroud (which was to be the only one of his long career). Under the captaincy of Walter Taylor, the Club enjoyed a successful season, playing 32 matches, winning 23, losing 7 and drawing 2. Of the 19 matches played against other English clubs, 17 were won and 2 drawn. Towards the end of the season, Jimmy played against the Barbarians at Kingsholm, in a match organised to try to bolster Club funds, which had been severely depleted by the England v Wales match hosted at Kingsholm in January 1900. Gloucester defeated the Barbarians 13-0, and the match report speaks of "Stephens, Taylor and Clutterbuck combined in a movement which took play to the Barbarians end", which resulted in a try by "Whacker" Smith. By the end of the season WB (Bill Bailey) was waxing lyrical in the Citizen – "…afforded the Club the opportunity of giving an extended trial at centre to J Stephens, who has more than fulfilled the high expectations formed of him when assisting the local Gordon Wanderers Club. Not a little of the success achieved by the three-quarter line since Christmas can be traced to Stephens, whose cleverness and judgement have been repeatedly utilised for the benefit of the side."
Jimmy started the 1900-01 season with a try in the first game against Clifton, although his effort rather pales into insignificance when compared to George Clutterbuck's 6 tries in a Club record score of 66-0. Jimmy also ran in tries against Stroud and Old Edwardians, and, with 27 appearances out of 34 fixtures, he played a prominent role in Gloucester's successful season – won 24, lost 5, drawn 5; points for 522, against 75 – in a team assessed as one of the strongest ever turned out by the Club.
In the middle of the season, Jimmy played in the team which beat Blackheath 10-0 on 22nd December 1900; married Amy Wood on Christmas Day 1900; spent his honeymoon playing in the Boxing Day fixture against Old Merchant Taylors, which Gloucester won 16-3, and returned to work the following day as an iron turner at Fielding and Platt (although he did miss the game against Treorchy on 29th December). Jummer and Amy set up home at 86, Howard Street, Gloucester.
WB wrote that "J Stephens has a perfect knowledge of how the game should be played, and is up to nearly every trick on the board".  At the end of the season, he summarised: "One of the most pleasing features of the season has been the admirable work of the three-quarter line. Both in attack and defence the quartette have proved wonderfully effective, and Clutterbuck, Stephens, Cook, and "Whacker" Smith are deserving of all the praise that has been bestowed on them. No four players ever worked better together, and when at the top of their form they took a lot of beating. In Cook and Stephens, the Club have two of the cleverest centres to be found in England. Both have a perfect knowledge of how the game should be played, and are up to nearly every trick on the board…..Though not so Brilliant in attack as his colleague (Cook), Stephens has the recommendation of being a very sound player, and his coolness, judgement, and resource have frequently got his side out of a difficulty."
Jimmy made his debut at county level, when he was selected to play for Gloucestershire against Somerset at Bristol on 24th November 1900 – he scored a try, and Gloucestershire won 29-8. He kept his place in the side for the 21-6 win over Devon at Exeter, and also played in a friendly against Glamorgan at Kingsholm (lost 0-29). He was also selected for an England trial, playing for the Rest of the South against London and the Varsities.
In 1901-02, Jimmy played in 30 of the Club's 34 fixtures (the most of any player, and two of his absences were whilst he was playing for the County). Gloucester enjoyed another successful season – won 24, lost 7, drawn 3; points for 542, against 103. Jimmy scored tries against Pontypridd ("a very rough game – L Morgan was injured early and had to retire; Clutterbuck later had to retire, so that most of the game Gloucester played with 14 men and later with 13" but they won 14-8), Coventry, Penygraig, Lydney and Cheltenham. His appearances for the County were against Cornwall and Somerset, but he was not selected for Gloucestershire's first appearance in the County Championship final, which was lost 3-9 to Durham at Kingsholm. At the end of the season, WB concluded that "Once again J Stephens has proved himself a thoroughly sound centre, a marked feature of his play being the wonderful consistency he has shown. In all departments Stephens displayed a reliability which was lacking of a more brilliant type, and Gloucester often benefitted by his cool-headedness and aptitude to relieve the situation at a critical moment."
Jimmy played in 27 of the 36 fixtures in 1902-03, a disappointing season for the Club (19 won and 16 lost). He scored tries against Old Edwardians (2), Bridgwater, and Stroud (both tries in a 6-0 win). WB summarised his season as "Stephens divided his attentions between centre three-quarter and half-back, and this clever little player was the soundest member of the back division. Had the Club been fortunate in discovering a scrum worker of George Hall's calibre, the team would have greatly benefitted with Stephens at outside-half, but such an individual was not forthcoming."
In 1903-04, Jimmy played in all but one of the Club's 34 matches, more than any other player, scoring tries against Old Edwardians (home and away – they must have been his favourite opponents by this time), Cheltenham, Clifton, Coventry, Stroud, Bristol and Northampton. WB remained a fan, commenting in his summary of another indifferent season for the Club (18 won, 14 lost) that "Stephens, as in the previous season, divided his attentions between half-back and three-quarter, and in either position he rendered yeoman service. Though lacking in speed, he makes up for this deficiency by his sound and clever football, and one cannot remember his playing a bad game."
In 1904-05, Gloucester started the season with a problem, in that they did not have an outside half to partner Dai Gent, and, after several experiments, settled on Jimmy as the best option. He appeared in 29 of the 36 fixtures of an improving Gloucester side which won 23 and lost 11. He scored a try against London Welsh in a 13-3 victory, and against BroughtonPark in a game won 51-0. WB started his summary of the season by commenting "In the early part of the season the form of the City team was anything but encouraging, the weakness in the back division being very apparent. One or two players, from whom great things were expected, failed almost entirely, and the Committee had to make repeated experiments before the side was definitely fixed up. To find a suitable partner for Gent at outside-half was a matter of considerable difficulty, and it was not until J Stephens was moved up from centre three-quarter that the problem was solved. Stephens, one of the best and soundest players that ever donned the City colours, took kindly to the position, and except on rare occasions he and Gent proved a great success in combination."  Dai Gent insisted that Jimmy "proceeded to teach me all he knew and to shield me all he could. Thanks to him, I was lucky enough to play for England. But never did I play with anybody with whom I was as happy and comfortable as with him." The pair of them were presented with gold medals for winning the County Cup, Gloucester defeating Bristol 12-0 in the final.
Gloucester had an excellent record in the 1905-06 season under the captaincy of Billy Johns, winning 26 and losing only 8 of their 37 fixtures, in 28 of which Jimmy played. This was the only season in which he played regularly and failed to score a try, but the team registered 661 points, a Club record, beating the 542 scored in 1901-02. At the start of the season the new gymnasium was opened (the oldest building still standing on the Kingsholm ground, and now known as the Lions' Den). WB's summary of the season included: "In the early part of the season Gloucester experimented at half-back, but Gent and Stephens were found by far the most successful pair in combination. At the scrum Gent displayed all his old skill and judgement, and not a little of the team's success was due to his brilliant work. Stephens worked in perfect harmony with his colleague, and no third line could have been better served. One has only to glance at the list of scorers for evidence of this fact. An unfortunate illness robbed Gloucester of the valuable services of Gent during the last two months, and later Stephens was also laid up. Both players have happily recovered, and it is to be hoped that after the summer's rest they will be found fit and ready again to take up their positions behind the scrimmage." Jimmy missed the County's warm-up game against Glamorgan, but he played in all of Gloucestershire's SW group matches against Devon, Somerset and Cornwall.
Probably the greatest match of Jimmy's playing career was on 19th October 1905, when he ran out at Kingsholm in the Gloucester side to take on the all-conquering All Blacks. Gloucester decided to play three half-backs and only seven forwards, so Jimmy found himself playing outside Dai Gent and alongside Alfie Wood. The plan failed to knock New Zealand out of their stride, and they ran out easy 44-0 winners. Dai Gent later wrote of this match "Of course, the most memorable match in my day was that against the New Zealanders in 1905. We had a very fine side indeed at that time, but we were too light. In the all-important middle of the field were Stephens, Harrison, Hall, and myself, not one of us as much even as 11 stone in weight, whilst my own "fighting" weight was, to be exact, 9st. 4lbs.! That was the chief reason why they beat us by a cricket score – they simply trod on us and went on!" The match report speaks of "Wood and Stephens rendered a good account of themselves" and that "a  smart bit of fielding by Stephens gave the Gloucester backs a chance, but Harrison kicked instead of trying to make an opening", but Gloucester were seriously out-gunned, and spent most of the match on the back foot.
In 1906-07, Jimmy played more games than everyone bar H Collins, with 29 appearances out of 34 fixtures, in what turned out to be a moderate season for the Club (21 wins and 11 losses). He scored tries against Newport, London Hospital and Percy Park, and WB summarised his season as follows: "At half-back, D R Gent and J Stephens have been the regular players when available. The unfortunate accident to the popular captain right at the start of the campaign was a serious handicap for his absence made a vast difference in the play of the backs. Though for the main part operating behind beaten forwards Gent accomplished much fine work, and he had a sound and helpful partner in Stephens, who retains his form in a remarkable manner."
Jimmy was selected to play for the Gloucestershire team which played the South Africans at Kingsholm on 3rd November 1906, when he was partnered at half-back by F Niblett of Cinderford in the absence of Gent who was injured. As with the All Blacks the previous year, the home team were overwhelmed, and the Springboks ran out 23-0 winners. The match report records that "Niblett and Stephens, on the home side, were altogether overshadowed by the Colonials, and neither player was seen to advantage. There was the same immense superiority at three-quarter."
Jimmy warmed up for the 1907-08 season with a try for the Probables against the Possibles in the first match of the season, and appeared in 31 of Gloucester's 34 fixtures (aided by his lack of selection for the County). His only tries in the remainder of the season came against Exeter (won 6-0) and Lennox (won 27-10). WB's summary of a fairly good season (23 wins and 9 losses) included: "In the latter part of the season J Stephens took up the centre position, and the veteran played consistently and well as he always does" and "at half-back numerous experiments were tried. Gent and Stephens were the original pair, and they proved as good as ever."
In 1908-09, Jimmy played in 27 of the Club's 37 fixtures (won 23, lost 10). His only try of the season was scored against Stroud. Although he missed out on selection for Gloucestershire's game against the touring Australians at Kingsholm early in the season, within a month he was playing for them again against Glamorgan, and kept his place for the rest of the season, earning another 7 County caps. He scored in the 20-9 victory over Somerset. He also played and scored in a game against Racing Club de France at Kingsholm on 24th December 1908, which Gloucestershire won 39-0. WB was again impressed and summarised Jimmy's season as "Gent and Stephens proved a fine pair of half-backs, and the pity was that there was not a better three-quarter line to take advantage of their Cleverness and resource. Gent and Stephens played together like clockwork, and the reverse pass was brought off repeatedly with great success. Stephens proved an adept at taking all sorts of passes, and if only the veteran would strike out on his own a little more – he can do it if he likes – he would be hard to beat." The pair of them were chosen as reserves for England against Wales, but were not called upon.
1909-10 was to be Jimmy's last full season for the Club, and he played in 30 of the 38 fixtures (won 23, lost 8), his absences being when he was playing for the County. The only tries he scored during the season, his last for the Club, both came in the same match against Cardiff at Kingsholm on 23rd October 1909 (lost 8-20). He played in the matches which secured the County Cup, Gloucester defeating Lydney 18-0 in the final. Jimmy's half-back partner, Dai Gent, left Gloucester for Plymouth towards the end of the season, a considerable blow for the Club and for Jimmy in particular.
At the end of the season, WB wrote "Pride of place this season has undoubtedly been earned by the forwards and half-backs; in these two departments Gloucester were clearly able to hold their own with any English or Welsh team…. Gent and Stephens, at half-back, continued their successful combination, to the delight of their admirers….Stephens, who may rightly be termed the "Father" of the team, played consistently and well, and he went through a strenuous season with conspicuous success. The veteran keeps up his form wonderfully, and Anno Domini plays very lightly with him. He is now in his 34th year, but still considers he is not yet played out and hopes to start again next September. During the season Stephens established a record number of appearances for the City Club, and his aggregate now stands at 308. In addition he has represented the County on 28 occasions, and this season had the proud distinction of playing for Gloucestershire in all the championship matches – truly a grand record, and one that will take some beating. When he does finally take his leave of the football field as a player, there should be a testimonial for Stephens worthy of his services to the City and County."
Jimmy indeed played throughout a magnificent season for Gloucestershire, earning another 8 County caps. The County lost their warm-up game 8-12 against Glamorgan at Cardiff, but started their SW Group games well with victory over Devon 22-0 and Somerset 21-14, before slipping up 0-11 away in Cornwall. This left a 3-way tie in the Group, which meant replays were necessary against Somerset (won 16-8 at Kingsholm), and against Cornwall (won 12-11 at Redruth). Kent were beaten 6-3 at Blackheath in the semi-final, which set up a final at Kingsholm against Yorkshire. Gloucestershire were not to be denied their first County Championship title, winning handsomely, 23-0. Jimmy thus finished his County career in the best possible style. This fine form also earned him selection as a reserve for an England trial game, but the call-up never came.
At the start of the 1910-11 season, he played in the first six games. The first four were won, against Bream, Stroud, Cinderford and Clifton, but then came two defeats in as many days by Swansea and Cinderford. His last game was that 3-11 defeat by Cinderford at Kingsholm on 3rd October 1910. A month later, he decided to end his playing career, and the following letters appeared in the Citizen Pink 'Un:
"RETIREMENT OF J STEPHENS
Glo'ster's Popular Half-back
A BRILLIANT RECORD
We have been asked to give publicity to the following letters:
To the Committee of the Gloucester F C
                                                                           38, Frampton Road
                                                                             7th November 1910
Dear Sirs,
I beg to resign my place as a playing member of your Club, as I find I am getting beyond the age when I can keep up the form required in first-class football. Knocks received are not so easily shaken off, and I have a family to look to, so I think it is time I gave up my place to a younger player. I regret having to do so after so many enjoyable games. I must thank the officials and players for the kindness always shown me, and can only say how pleased I shall be to do anything I can to help the Club in any other way in future.
                                                           I remain
                                                                     Yours truly,
                                                                            J STEPHENS
                                          Gloucester Football Club
                                                                                8th November 1910
Dear Sir,
I read your letter of the 7th inst, containing your resignation as a playing member of the Gloucester Football Club, to my Committee last night. Great regret was expressed that you would no more be seen in the Cherry and White Jersey after the many years' faithful service you have rendered the Club.
A unanimous vote of thanks to you was passed and recorded on the minutes, and I was instructed on behalf of the Committee and Members generally to write and express their very cordial thanks to you for the valued services you have always so readily accorded the Club. The Committee wish me to say how fully they recognise and appreciate the loyal and sportsmanlike manner in which you have at all times treated the Club, you having never considered your own personal interests when you thought its welfare has been at stake. In laying aside the Gloucester jersey you have the consolation of knowing that your long football career has been a most honourable one, and that no player has ever more fully deserved the regard and confidence which you now enjoy in the feelings of the Officers and Committee of the Club and of all lovers of true sport in the City and County.
                                               Yours truly,
                                                           H G Brown
                                                                       Secretary"
Jimmy thus finished his Gloucester career with 322 Gloucester first team appearances, 35 tries, 1 conversion, 1 penalty, and 110 points; these appearances were spread across 14 seasons, during 11 of which he was a regular in the first team, 1899-1910. He had also racked up 32 county caps for Gloucestershire, with whom he had won the County Championship.
WB (Bill Bailey) paid tribute to his fine playing career in the Citizen:
                                       " THE VETERAN'S CAREER
General regret will be felt at the withdrawal of such a popular player from active participation in the game, but at the same time one must feel that Stephens has justly earned his retirement. The Gloucester Club in its long history has had some magnificent players and officers, but no one has served the Club more loyally and faithfully than the veteran half-back. In every respect Stephens has been the ideal of a working man player, and his conduct both on and off the field has earned for him the highest respect of players and spectators wherever he has appeared.
Stephens has a record for the City club of which he may well feel proud. He played his first game for Gloucester as far back as 1894-5, but it was not until season 1899-00 that he gained a permanent place in the First Fifteen. From that time up to October 3rd this year he regularly assisted, and altogether his aggregate of appearances for Gloucester totals 314, which easily establishes a record for the club. In addition Stephens has played for the county in 28 engagements, and last season he had the distinction of going right through the county championship matches for Gloucestershire, figuring in the final when Yorkshire were beaten by 23 points to nil. The highest honours in the Rugby world were denied the popular Gloucestrian, but there was no question that England would have benefitted had Stephens been joined with Gent in some of the International contests. The pair were reserves for the Welsh match two seasons ago, but they were not called upon.
As a player, Stephens proved consistently sound rather than brilliant, and during his long career one has scarcely ever seen him play a really bad game. His brilliant partnership with Gent for Gloucester will ever be remembered by followers of the City, the perfect understanding between the couple often enabling them to overcome players of stronger individual ability. Stephens will carry into retirement the best wishes of a large circle of friends and the full knowledge that his efforts have been greatly admired and fully appreciated.
                                         A TESTIMONIAL FUND
No doubt the Gloucester Football Club will organise a testimonial to Stephens (by permission of the County Union), but there are many followers of the Gloucester team, and others, who cannot be approached by collecting boxes and cards, who would like to subscribe to a fund for Stephens. The proprietors of The Citizen therefore propose to start a subscription list, and trust that the appeal for donations will be such as to recognise in a substantial manner the brilliant services Stephens has rendered football in the city and county over such a lengthy period. Subscriptions, which should be sent to our offices, St John's Lane, will be duly acknowledged each week in the Football Citizen."
At the AGM in 1911 he was made a life member of the Club. By this time, Jummer   and Amy were living at 38, Frampton Road, Gloucester, together with their 3 daughters and 2 sons.
Jummer died at his home – 4, Clegram Road, Gloucester – on 27th September 1936, age 61. His funeral service was held at St Stephen's Church, attended by a large contingent representing the Club, including John Brookes (vice-president), Arthur Hudson, Walter Taylor and Tommy Bagwell.
WB (Bill Bailey) wrote the following appreciation in his weekly column on 3rd October 1936:
"It was with great regret I heard of the death of Mr Jim Stephens, the former Gloucester half-back, who passed away last Sunday at the age of 61. He had been in ill-health for a long time. Old followers of the Gloucester Club will recall the brilliant services of "Jimmy" in partnership with Dai Gent over a lengthy period. They were a splendid combination, and ranked amongst the finest pair of club half-backs in their day. When international honours were distributed, Gent was the favoured one. Stephens had to be content with the position of reserve for England, but far inferior players gained the coveted distinction.
Stephens made his name as a centre three-quarter with a local team, the Tredworth Stars, and I well remember his introduction to first-class football. He fulfilled all anticipations, and was a great success for Gloucester. But it was at outside-half to Gent he made his reputation, and the understanding between them as to which side of the scrum attacks should be developed was remarkable. Gent swung out swift passes right or left, but his partner was rarely out of position, and always took the ball on the run. These successful tactics speeded up the movements appreciably, and some brilliant back-play resulted.
For over ten years Stephens served the Gloucester Football Club loyally and well, and his election as a life member was a distinction thoroughly merited. His old colleagues with whom "Jimmy" was very popular, will share with me the deepest regret at his death, and extend to the widow and family sincere sympathy in their bereavement."
On 10th October 1936, soon after Jimmy's death, his former half-back partner, Dai Gent, travelled to see a match at Kingsholm, and subsequently wrote the following article:
"THE LATE "JIMMY" STEPHENS
OLD PARTNER AND FRIEND
By D R Gent
It was grand watching the old Club beating Cardiff last Saturday [Gloucester won 13-9], and I congratulate everybody who played, though there was one foul by a home forward in the second half that left a nasty taste in one's mouth. Apart from that, it was as fine a match as I wish to see.
But all through the match my mind was tinged with sadness, for the first thing I heard on reaching the City on Friday night was that my old partner and friend "Jimmy" Stephens, was dead. No club can ever have had a more loyal member than "Jimmy", and no player a more helpful and unselfish partner.
When I joined the Club in the 1903-4 season, I had G Williams, from Chepstow, as my partner. Then for a short time A E Wood, afterwards to become famous as a full-back, tried to take my passes. When he went to full-back the Club was in a dilemma, and it was decided to bring in "Jimmy" Stephens from centre, and try J Harrison in the centre. That commenced a partnership between "Jimmy" and myself that lasted for I don't know how many years, four or five at least.
Never was a scrum half more fortunate. I was a very young player ("Jimmy" was eight years my senior), and "Jimmy" proceeded to teach me all he knew and to shield me all he could. Thanks to him, I was lucky enough to play first for the County, and then for England.
But never did I play with anybody with whom I was as happy and comfortable as with him.
Never bad-tempered, never running away from rushes, always in the best position to take my worst pass; and above all, invariable doing something with the ball that would make it fairly easy for "the next fellow" to make ground.
"A Great Little Man"
I wonder how many back divisions the old Club has had that attacked as smoothly and effectively as the one where Arthur Hudson, Ernie Hall, "Jimmy" Harrison, and "Whacker" Smith were the three-quarters, and "Jimmy" and myself were at half; whilst Wood was at full-back to kick the goals, or, if we were hard pressed, to score a try as well. And yet not one of the four of us in midfield weighed more than 10 ½ stone!
Yes, a great little man was "Jimmy" Stephens, great-hearted and completely loyal to players and committee. If it was George Romans who encouraged me to take up Rugby seriously and come to Gloucester, it was "Jimmy" Stephens who was the partner that helped me most to develop my game, and who was the ideal friend for a keen youngster like myself.
After the match on Saturday Arthur Hudson and I harked back to "Jimmy" and the days of his playing, and the gist of all our reminiscences of him was – it was never himself he was thinking about, but the other fellow. I see "Jimmy" Stephens's name on the list of "life" members. I wish it could remain there always, for it contains no more honourable name, and never will."
Jummer was part of a Stephens rugby dynasty.
His brother, Arthur, six years older, also played for Gloucester, making 144 appearances for the 1st XV and another 45 for the "A" team, 1890-98; he too played many games at half-back, but also played at full-back and elsewhere in the three-quarters.
Another brother, Sidney, 12 years younger than Jummer, played 4 games at half-back for Gloucester in 1910. His first game was against Stroud on 8th January 1910, and his last was against Headingley on 25th March 1910; he also made a few appearances for the "A" team.
Jummer's son, Eric James Henry Stephens, known as "Jim", played for Gloucester's second team in the 1920s, before going to Birmingham in 1929 to play professionally. He returned to Gloucester in 1935 and became the secretary of Wagon Works RFC. He married Ivy Keys. Ivy's father, Frank Keys, played 32 games, his first against Clifton on 20th September 1902, when he scored 2 tries, and his last against Cheltenham on 28th November 1903; he died aged 24 from a rugby injury incurred whilst playing in Wales in 1907, the same year Ivy was born. Ivy's uncle, Eric Keys, played one game for Gloucester against Coventry on 24th January 1903, but also served on the Gloucester Club committee, and was heavily involved in organising schools rugby in the County.
Eric James "Dick" Stephens, son of Arthur (so, Jummer's nephew) played 54 matches at outside-half and centre for Gloucester, 1926-31; his first appearance was against Cheltenham on 27th November 1926, and his last against Moseley on 25th October 1931. He also played 216 matches as an all-rounder for Gloucestershire County Cricket Club.
Jack Stephens, the son of Jummer's brother, Tom, made 92 appearances for Gloucester at outside-half and back, 1926-29; his first game was against Lydney on 23rd October 1926, and his last was probably also against Lydney on 20th April 1929. Later that year he joined Oldham Rugby League Club.
Tom Stephens, the second son of Jummer's brother, Tom, made 53 appearances for Gloucester at fullback and centre, 1927-40 (his first match was against Guy's Hospital on 28th January 1928, and his last against Somerset Police on 6th April 1940,
Jummer's grandson, Eric Stephens (son of E J H "Jim" Stephens) played 221 games and scored 1559 points for Gloucester in various positions between fullback and back row, 1961-74. His first game was against Coventry on 28th October 1961 (he scored a try on debut), and his last against Camborne in the last game of the season on 29th April 1974.
[I am grateful to Chris Collier for statistical information on Jummer's rugby career, and to John and Hilary Theyers for family history details]