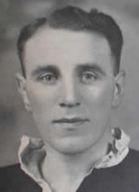 John Gwilliam was a No.8 or lock who played 23 times for Wales including 13 times as captain. He was a Cambridge blue and Barbarian. He played for Gloucester from 1953 – 55 joining the club late in his career. He played his last 5 internationals as a Gloucester player, becoming the first Gloucester player to captain his country.
John Albert Gwilliam was born on February 28, 1923 in Pontypridd and educated at Monmouth School. He spent a year at Cambridge University in 1941-42 before being commissioned as an officer in the Royal Tank Regiment.
John played for Newport in 1945-46 while still on Army service and again in 1946-47 before resuming his studies at Cambridge. In December 1947, after an outstanding Varsity match, he made his debut for Wales v. Australia in the second row. He was dropped but recalled for the Ireland match. In 1948-49 (his final year at Cambridge) he played in all the Home Internationals, continued to play occasionally for Newport and made his debut for the Barbarians
In 1949, after leaving Cambridge, he became a teacher at Glenalmond School in Perth. He joined Edinburgh Wanderers and in January 1950 became captain of Wales for the first time, beating England at Twickenham. Wales went on to win the Triple Crown under his captaincy. The Times considered that he would have been a certain selection for the 1950 Lions tour of Australia and New Zealand had he been available.
He captained Wales on 12 occasions while with Edinburgh Wanderers and once again led them to the Triple Crown in 1952.
In 1952 John Gwilliam moved south to teach at Bromsgrove School. He joined Gloucester for the 1952-53 season, making his debut against Lydney in the first match of the season. He regained selection as No. 8 and captain for the first Home International against England by captaining the Possibles to victory over the Probables in the final Welsh trial. He also played against Ireland and France.
In 1953-54 he played his final internationals for Wales against the All Blacks and England. He finished the season on Gloucester's annual tour of the West Country and played one further big game for the RFU President's XV v Wasps in September 1954.
John Gwilliam lives in retirement in North Wales