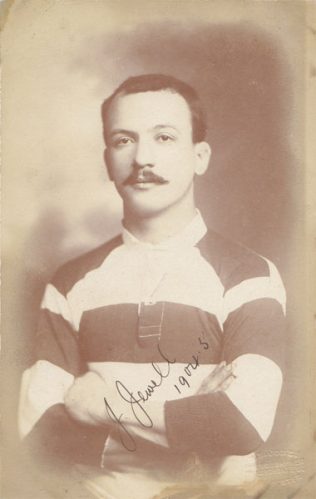 John Henry Jewell was born in Gloucester, the son of a store manager, and as a boy he lived at the Oil Stores, Hempsted. By 1901, aged 19, he was still living with his parents, but now in Tuffley and working as a turner (iron) fitter.
He started to play for Gloucester later that year, making his debut for the 1st XV in a 3-0 victory at Cheltenham on 23rd November 1901, getting his opportunity because Gloucester had twelve men absent playing for the County. But John had seized his chance and quickly became a first choice selection amongst the forwards, playing in 22 of the 25 games remaining that season. He scored his first try for the Club on 27th December 1901 at Bath, where Gloucester won 26-0.
Illness put John out of contention for some time the following season, and only appeared in ten matches, although he also played at least nine games for the 2nd XV. He then missed the whole of the 1903-04 season.
Fit again for 1904-05, John started the season playing for the local South End club, but quickly displayed "such capital form" that he soon regained his place in the City pack, and appeared in 25 of Gloucester's 34 fixtures, scoring a couple of tries. The second of these was in the County Cup Final against Bristol, which Gloucester won 12-0, as a result of which gold medals were presented to John and his teammates. At the end of that season, the Citizen reported that "though short in stature, Jewell is one of the cleverest of the City forwards in taking the ball in the line-out, is more than useful in the open, and a hard worker in the scrimmage. He turns the scales at 11st 12lbs."
John played in 20 of Gloucester's 37 fixtures during a very successful 1905-06 season, but scored his final try in the 16-0 defeat of Bath at Kingsholm on 9th December 1905, and played his last game for the Club in a County Cup match against Bream at Kingsholm on 24th February 1906, which Gloucester won 68-0. He finished his career with 77 appearances and five tries.