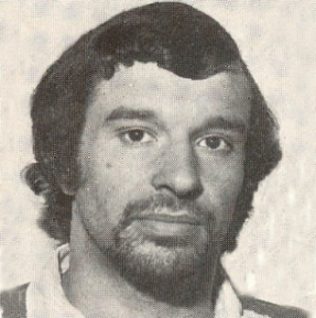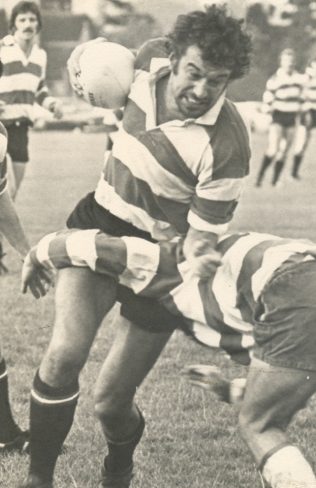 John Simonett was a No 8 and skilled lineout forward who at 6ft 5in could also play second row. He made 97 appearances for Gloucester, starting each match throughout the successful 1978 cup campaign. He captained Scotland Under 19, St Paul's College and British Colleges and also appeared for Gloucestershire. He was a member of the senior Scotland squad in 1978-79.
John Frederick Simonett was born on 18 August 1950 in Trinidad and was educated at Fettes College, Edinburgh. He captained a Scottish Schools Under 19 side in 1969 that included Andy Irvine and Lewis Dick and might have gone on to senior international honours if he hadn't gone abroad to work.
On return, he trained as a teacher at St Paul's College Cheltenham for whom he played from 1972 -76, captaining the side. He also captained the British Colleges XV while at St Paul's. On 14 October 1975 he played for Gloucestershire v Monmouthshire at Kingsholm in the second row.
On leaving college he took a post as physical education teacher at Beaufort School, Gloucester and joined Gloucester RFC, making his debut on 4 September 1976 against Broughton Park at Kingsholm. He was first choice at number 8 during the three seasons that he was with the club.
Following a successful first season, Simonett toured North America with Gloucester in the summer of 1977. He was on the bench for Gloucestershire against Devon in October and was an ever-present in Gloucester's 1978 John Player Cup campaign. He was part of an outstanding back row performance in the 19-10 defeat of the cup holders Gosforth (Newcastle) in February and his back row covering and line-out play contributed to Gloucester's victory in the final over Leicester at Twickenham in April. He was generally regarded as Gloucester's most improved player of 1977-78.
Simonett caught the attention of the Scottish selectors and was selected for the Scotland squad in 1978-79. He was also in the squad for the County Centenary game at Kingsholm against an all-star President's XV in September. He broke his thumb playing for Gloucester against Sale on April 21 1979 – a game which turned out to be his last. It was reported in August that he was taking up the post of sports master at King's School, Gloucester and would be unavailable for Saturday games. He then decided that it would be unfair to continue with the club on that basis.
An outstanding amateur magician (he is a member of the Inner Magic Circle), Simonett regularly entertained his fellow players and taught John Watkins a conjuring trick which he used as his party piece on a Barbarians tour. Given his height it was not surprising that his other sport was basketball, which he played in the West of England league.
John Simonett left teaching in 1985 and, using his first class degree in psychology from Bristol University and his skills as a magician, is a well-known motivational speaker on the corporate after-dinner circuit. His website address is www.johnsimonett.co.uk.