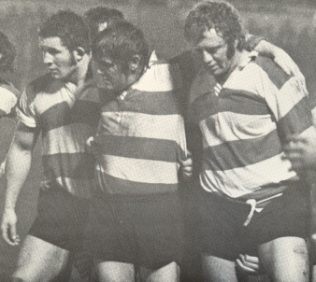 Steve Colling - GRFC 1975 Calendar
Keith Richardson was a big mobile prop who also played in the back row. He made 278 appearances for Gloucester and captained the club in 1974-75. He was capped by Gloucestershire and played for Southern Counties against the All Blacks. He also played for Loughborough Colleges, Rosslyn Park and Bath and captained Dorset and Wilts in the County Championship. Richardson coached Gloucester from 1987-88 to 1992-93.
Keith Richardson was born in 1944 and educated at George Stephenson Grammar School Newcastle. He trained as a physical education teacher at Loughborough and in 1963 propped for Loughborough Colleges in a 16-13 win over St Lukes Exeter in the annual match at Old Deer Park Richmond. Don Rutherford was full back for St Lukes. In 1964 he played in the back row of the Loughborough Colleges side that retained the UAU championship at Moseley.
Keith toured the Eastern United States with Rosslyn Park in 1965. He then joined Bath and gained his first caps for Dorset and Wilts in the County Championship.
In autumn 1968, Keith Richardson moved to Gloucestershire to take up a post as physical education master at Wycliffe College. He had played a final game at number eight for Bath against Roma on September 5 and, joining Gloucester the following week, played for Gloucester United on September 17, before making his 1st XV debut at Clifton on September 19. His Kingsholm debut was in a 15-6 victory over Cardiff on September 25 where he "distinguished himself with a commendable performance in the loose exchanges." Three days later he played in a 9-6 victory at Bristol.  However, with Mike Potter established at No 8, he moved up to prop during the latter part of the season.
The 1969-70 season was one of the most demanding in the club's history when 57 games were played under Dick Smith's captaincy. Keith Richardson played 39 games, propping with Mike Burton or Robin Cowling and reverting to the back row in a notable 19-3 victory over Swansea at Kingsholm.
After making only occasional appearances in the following season, he became a regular 1st XV player once more in 1971-72 and 1972-73, again partnering either Cowling or Burton in the front row. He continued to play for Dorset and Wilts and in 1972-73 was selected to play for Southern Counties against the All Blacks.
The next three seasons were the peak of Keith Richardson's career with Gloucester. In 1973-74 he captained Dorset and Wilts and was a reserve for England against Wales. The following year he captained Gloucester and, leading from the front, played in 43 of the 45 games, winning 32. He made his debut for Gloucestershire in the quarter final of the County Championship. In 1975-76, another successful season under Mike Burton's captaincy, he played 48 games, captaining the club in Burton's absence.
After touring the American mid-west with Gloucester in 1977, Richardson played some early games in the following season but announced his retirement in December that year. He continued his links with Gloucester and became club coach in 1987-88, a position he held until 1993-94, taking the club from the start of the Courage Leagues to the appointment of the first paid Director of Rugby.
When he left Gloucester, Keith Richardson went on to coach Harlequins, Newbury and Coventry. At national level he has coached England A, England Emerging Players and England Under 21. He has written widely on rugby as editor of the RFU Technical Journal, rugby columnist in the local press and author of "The Rugby Coaching Manual."