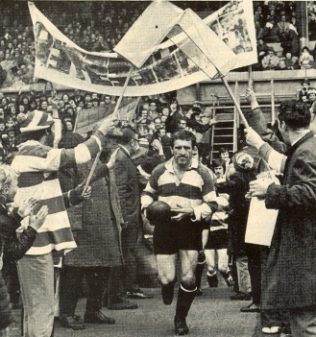 Mike Nicholls was an outstanding hooker and a tough competitor who as a captain inspired the same level of commitment in his players. He captained Gloucester in 1970-71, 1971-72 and 1973-74, breaking the record for the number of wins in a season on each occasion and leading his club to victory in the first year of club knockout competition. He made 431 appearances for Gloucester and 15 for Gloucestershire and was an England trialist.
Michael J Nicholls was born on September 11, 1940 in the Clapham area of Gloucester and was educated at CentralSchool. After playing for Old  Centralians, he joined Gloucester RFC in 1961
He made his 1st XV debut for Gloucester at Cardiff Arms Park on 20 September 1961 in a hard fought 10-6 defeat and followed this with his Kingsholm debut three days later in a memorable 15-3 victory over Bristol, a match described as "one of the finest games witnessed at Kingsholm for many years." Nicholls out-hooked a young John Pullin in that game and as a result was picked to play for Gloucestershire against Monmouth on 5 October after only two first XV games. He retained his place against Devon for his County Championship debut but then gave way to the more experienced John Thorne of Bristol and later England, who was returning from injury.
Competition at club level with fellow county player Ken Taylor and Cambridge Blue Mike Wetson limited Mike Nicholls's 1st XV appearances over the next three seasons and it was not until 1965-66 that he claimed the number one spot for Gloucester. He would remain first choice hooker for the next ten years. He played for Gloucestershire against Monmouth in what was described as "the strongest team on form" on September 30 1965 but John Pullin was chosen for the County Championship games that season and Nicholls again found himself as understudy to a Bristol and England hooker. With Pullin around, Gloucestershire opportunities were always going to remain scarce, although he did eventually win 15 caps in his long career. In that 1965-66 season he reinforced his reputation as a hard uncompromising player, an outstanding hooker who was tigerish in the loose, perhaps the one player above all others who would relish a wet February afternoon, playing in a mudbath at Aberavon where the Citizen said he "dominated the scrums."
In October 1966 Nicholls was picked as reserve to British Lions hookers John Pullin and Bert Godwin for the first England trial and found himself propping for the Blues against the Whites when both props were injured. He continued to be in contention for county and England trial selection throughout the remainder of the sixties, playing in Gloucestershire's 18-3 win over Oxfordshire in the County Championship ¼ final in 1968.
At the age of 30 and with 218 1st XV appearances already behind him, Mike Nicholls was elected Gloucester captain for the 1970-71 season. It was an inspired choice. Nicholls proved to be a motivational captain who fostered a remarkable club spirit and whose team talks were legendary. A number of his greatest admirers as a captain have described them as "frightening". He expected the same level of passionate commitment from his players as he took onto the pitch himself. In his first season he played in all 51 games of a punishing fixture list and led Gloucester to a record 35 victories.
At the start of the following 1971-72 season Nicholls promised an improvement in the club's away record and greater emphasis on the pack. It was the first season of the new RFU Club Knockout Competition. Led by Mike Nicholls, Gloucester, who were drawn away in every round, overcame Bath, Bristol, London Welsh and Coventry before beating Moseley 17-6 in the final at Twickenham to become the competition's first winners. Success was based on a formidable pack, sound kicking and fearsome tackling – a team led by a determined captain who knew that behind him were a group of players who would do anything he asked. It was not always pretty to watch but it was mighty effective.  The most memorable match of that memorable season was the ¼ final against London Welsh at Old Deer Park on March 4 1972. The Welsh, whose side contained four Lions and seven other internationals, were beaten by 9 points to 4. Peter West, writing in the Times, said "It was a day for Gloucester when every man-jack of them earned his laurels. The palm, perhaps, might aptly go to the captain and hooker, Nicholls, for inspiring leadership and example." The record for victories in a season was raised to 37.
Nicholls took a break from the captaincy in 1972-73, playing 43 games under the successful leadership of John Bayliss, before returning for Gloucester's Centenary Season in 1973-74, when yet another new record of 39 victories was posted and 1096 points were scored. The most memorable match was the Centenary Match itself, against a star-studded International XV, which Gloucester won by 24 points to 14. In three seasons under Mike Nicholls's captaincy, in which he played in 143 of the 154 games, Gloucester's playing record was:
Played: 154   Won: 111   Drawn: 11   Lost: 32   Points for:   2689   Points against:   1366
After stepping down as captain, Nicholls played on for three more seasons. After retirement as a player, he continued to serve the club as a coach and was a long-serving member of the committee.
Despite a long-standing illness, Mike Nicholls was able to be at Kingsholm in 2012 for the dinner to celebrate the 40th anniversary of the 1972 success at Twickenham. He died in December that year.
(Rugby career statistics supplied by Chris Collier)