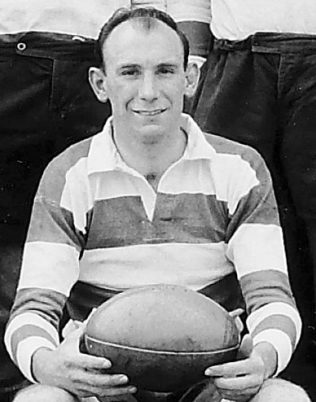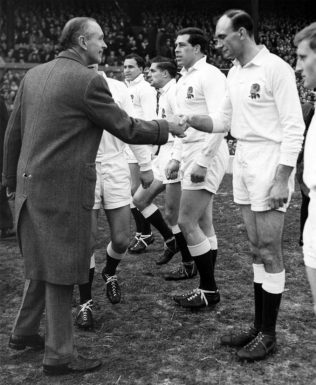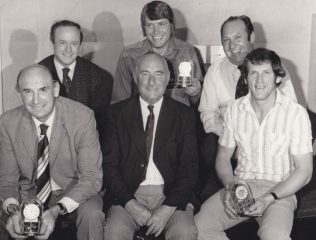 Peter Ford was a tall, sparely built, blind side forward with many of the traditional back row skills, noted for his massive hand-off and his ability with the ball at his feet, in addition to his tackling and speed around the scrum. One of the leading figures in Gloucester rugby from the fifties and sixties to the present day, Peter captained the club for five seasons and Gloucestershire on many occasions. He played for Western Counties against the Wallabies, the Springboks (as captain) and the All Blacks, for the Barbarians and finally, when all hope of an international cap seemed gone, for England throughout the 1964 International Championship. In all, he played a staggering 507 1st XV games for Gloucester (the first of five players to achieve the 500 figure) and 46 for Gloucestershire, scoring 156 tries for the club.
Peter Ford was born in Gloucester on 2nd May 1932 and educated at Central Modern School. He played for the school side but describes himself modestly as "just an ordinary player." After school he played for local club Gordon League RFC before coming to Kingsholm in 1951 as a 19 year old.
Most young players serve an apprenticeship in the United side, but Peter's potential was recognised immediately and after just one second team game at Bream he made his 1st XV debut at Stroud on 13 September. He went on to make 31 appearances that season, scoring seven tries. After 21 games, players were awarded their club badge and Peter describes himself on the Saturday night when he received the badge "walking around town, showing my chest, my badge on my blazer – and I was the kiddie!"
In his second season the young Peter Ford played in all of Gloucester's 42 games and was among the club's leading try scorers with 15 tries. His lack of weight and gangling appearance belied his pace and strength and it was soon obvious that the club had something special in the young blind side flanker. County honours quickly followed in 1953 and he played throughout a successful season in which Gloucestershire went down narrowly to Middlesex 6-9 in the semi-final at Twickenham, and Peter scored their only try. As a result of his outstanding performances for Gloucestershire, he was named as a reserve for the international against France in Paris.
Peter Ford was elected club captain in 1955 at the age of 23. He went on to lead Gloucester for five seasons, stepping down for a year in 1958-59 when veteran hooker Cyril Thomas took over in his final season with the club. Peter was an uncompromising captain who led by example. The rugby was tight, based on the pack and half-backs and attacks were from short range.
In December 1957 he played in Western Counties' 9-8 victory over the touring Australians at Bristol – the first-ever victory by a side from the South West against an international touring side. It was a victory for the pack described by the Times as "mud-stained heroes" in which Ford played his part.
A less happy memory was of December 1961 when he captained a Western Counties side in which he was the only Gloucester player, alongside nine players from Bristol, to a 42-0 defeat by the touring Springboks at Kingsholm.
International honours still did not come his way, although in Easter the following year he was called up to play for the Barbarians against Newport on their Easter tour, scoring a try on his Barbarians debut. This paved the way for 1963-64 – his great season.
Peter Ford was chosen to play for Possibles against Probables in the first England trial at Bedford on December 7 and followed this up ten days later with an outstanding game for Western Counties in their 22-14 defeat by the All Blacks at Bristol. A New Zealand rugby correspondent wrote in The Times that "Not for many a day will spectators forget the clever little grubber kick by which Ford directed the ball to Lewis to give him the first try within 60 seconds of the kick-off." Western Counties were still leading 11-8 with only 18 minutes remaining and "Ford, Rollitt and Smith of the Counties' back row were lightning fast in their tackles."
He then had another fine game for The Rest against England in the Final Trial at Twickenham on December 21 but, despite press support, missed selection for the international against the All Blacks. England were outplayed and outmanoeuvred in a 14-0 defeat and at last the selectors turned to Ford. He greeted the news with disbelief, having convinced himself that his moment had gone.
Peter played for England throughout the 1964 International Championship. Nearly 32 when the call finally came that many felt should have come years before, he was only ever going to be a short term selection. However few would argue that he acquitted himself well.
The following season Peter played 40 games for Gloucester and captained Gloucestershire in all five championship matches. The following paragraph from a report in The Times of October 1964 on the Devon v Gloucestershire County Championship match says it all:
The patriarchal figure of Ford, the Gloucestershire captain, who won his first England cap at a time when most players are thinking of giving up the game, led Devon a merry dance until he was forcibly led from the field with an unpleasant gash in his pate. But he got his own way with those offering succour on the touchline, and re-entered the fray so heavily bandaged that he looked like a creature from outer space.
Gloucestershire won the game 37-0, a rare event in the closely-fought South West group, and Peter was enjoying himself too much to stay off the field for long.
Peter Ford announced his retirement in August 1965, but was back within a month to play in a 9-3 victory over Bristol when Gary White was injured. He played in eight 1st XV games that season before returning to retirement, but the following season, when Gloucester were beset by injuries, he played in a further fifteen games followed by seven in March and April 1968, playing his last game in the final match of the season at Exeter. It was during this autumn period of his playing career that he passed the magic figure of 500 appearances, the first of five Gloucester players to reach that goal.
By then a committee man, Peter continued to travel to away games with his boots. Ever willing to turn out when needed, he played his final 2nd XV game at the age of 38. He went on to serve the club in many capacities – team secretary, grounds committee, chairman of selectors, trustee of the club, Chairman and most recently as President from 2003 to 2008. After stepping down as President, he continued to be the welcoming face of Gloucester Rugby by entertaining the committees of visiting teams.
Peter served England, not only as a player, but also as an administrator – he was the Gloucestershire representative on the RFU committee, and an England selector for four seasons.