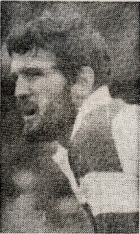 Richard Jardine was a highly skilled centre, tall with a long stride and good acceleration who played 309 games for Gloucester between 1967 and 1980. He played a major role in Gloucester's victorious cup campaigns of 1972 and 1978, missing the 1972 final through injury but playing in every round in 1978. He played 26 games for Gloucestershire, appearing in four successive County Championship finals 1972-73-74-75, three times on the winning side. He toured South Africa with Gloucestershire in 1977 and Romania with England B in 1978. He twice played in Paris for British Police against the French Police.
Richard Jardine was born on 18 January 1948. He was educated at Chipping Sodbury School and won his place in Chipping Sodbury senior XV at the age of 14. He joined Gloucester in September 1967, aged 19, making his debut for the United side against Bristol United in the same month. Richard made his debut for the first XV shortly afterwards and played 30 1st XV games in his first season, but then spent two seasons in which he was in and out of the side, before regaining a regular place in 1970-71, playing centre or outside half.
He was brought into the Gloucestershire side in January 1972 for the quarter-final against Berkshire and retained his place for the semi-final and the final against Warwickshire at Coventry, which Gloucestershire won to claim the Championship for the first time in 35 years. The same season Richard played in Gloucester's quarter-final and semi-final triumphs away to London Welsh and Coventry in the first ever knock-out cup but injury prevented him from appearing in the final against Moseley. In the epic London Welsh game The Times reported: "the tackling of the centres was swift and severe, Jardine once saving a try when Baker, the Welsh hooker, seemed set for the line."
Jardine was now an established player for club and county. He appeared in the 1972-73 County Championship final against Lancashire at Bristol, though on the losing side this time. He scored the winning try in Gloucester's Centenary Match victory over Don Rutherford's International XV in October 1973 and was again  on the winning side later that season in a replay against Lancashire at Blundellsands of the previous year's Final. A third County Championship success came when Eastern Counties were beaten at Kingsholm in 1975. He also appeared for Gloucestershire against England Under-23 and Japan and toured South Africa with Gloucestershire in 1977.
After appearing against Devon in October 1977, he was injured and missed county selection for the rest of the 1977-78 season, but was a member of the Gloucester XV who played unchanged through every round of the John Player Cup, beating Leicester in the final at Twickenham. Gloucester were recognised as England's premier club and Richard Jardine was selected for the England B tour of Romania in May 1978. It was a fitting climax to his career with the club.