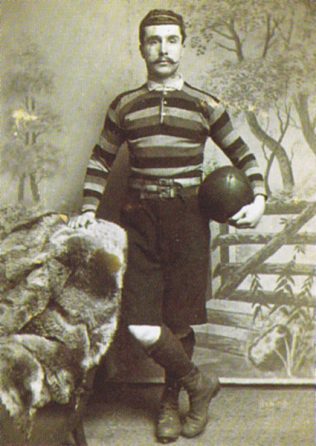 Walter George was born in Gloucester in 1867, the son of a bootmaker, and lived at Lower Highfield Cottages, Barton Street in his childhood. It was in the late 1880s that Walter, then playing rugby for the local side Rycroft, was drafted into the Gloucester senior team, under the captaincy of T G Smith, to partner S A Ball at half-back. Looking back many years later, W B (Bill Bailey of the Citizen) reminisced that "the move was attended with so much success that the pair set up a combination which gained for them a great reputation comparable with the best club players in the country".
Walter played his first game for Gloucester on 26th November 1887 at Swansea, a baptism of fire, which Gloucester lost by two tries to nil. However, young Walter must have impressed on his debut, because he retained his place in the side for all the remaining 13 fixtures in that season, tasting defeat only once more at the hands of Newport. Walter soon scored his first try for the Club at Clifton on 17th December, before adding a second at Bath in a thumping victory by 3 goals and 5 tries to nil, and then scoring his first try at Kingsholm on 3rd March 1888 against the Royal Agricultural College Cirencester.
In 1888-89, Walter reinforced his place in the team, playing in all 23 fixtures, of which only 3 were lost. This was the season when Gloucester played Cardiff four times, the first three matches resulting in draws, but Gloucester won the fourth at Cardiff. Walter scored a try against Newport on19th January1889, which proved decisive as the only score in the game.
In 1889-90, Walter missed only one of Gloucester's 25 fixtures. He enjoyed himself in the first three fixtures of the season, with a try in the opening match against the Next XX, followed by 4 tries against the Colts XX, and another against H V Page's XV. He also scored a try at Cardiff in a lost cause, Cardiff winning by 2 tries to one, but added another to win the game at Moseley by one try to nil. The Gloucester defence had a particularly fine season, at one point going nine games in succession during which their opponents failed to register any score against them. In several match reports, Walter was picked out for his fine dribbling of the ball.
In 1890-91, the captaincy passed to Tommy Bagwell, and Gloucester played 26 fixtures, losing only 2 of them. Walter again played in every match, thus completing a remarkable run of 3 seasons during which he missed only one game. He scored tries in 6 matches, against Rugby, Old Edwardians (home and away), Llanelly, Swansea and Swindon. The match against Rugby was won 23-0, which seems today to fail to represent the true margin of victory in that Gloucester scored 13 tries, 5 of them converted, but the scoring then was one point for a try and 2 for a conversion.
In the 1891 census, Walter is recorded as still a bachelor living with his parents at 19, Lower Barton Street, and employed as a mechanic: turner. Walter's rugby career had progressed with county selection, and he played in a Gloucestershire team which reached the County Championship Final. This was played against Lancashire at Manchester on 14th March 1891, when Walter was one of 14 Gloucester players in the Gloucestershire side (the exception being Sid Nicholls of Cardiff), but they went down by 4 goals and 2 tries to nil. The team were presented with caps, the first time they had been awarded by Gloucestershire.
During the summer of 1891, a company was formed to buy the Kingsholm ground. Although the new pitch was not available at the start of the season, the first match at Kingsholm was played on 10th October against Burton, with Walter playing a fine game and scoring a try as Gloucester started in fine style at their new home with a win by 2 goals and 4 tries to nil. Walter played in all but two of Gloucester's 34 fixtures that season, only 6 of which were lost. On 28th March 1892, the Barbarians visited Gloucester for the first time, and Walter played a prominent part in Gloucester's narrow 10-9 victory by 2 goals to 1 goal and 2 tries (tries now counted 2 points and conversions 3). The following month, Gloucester played the Rest of the County, with Walter again at the heart of a Gloucester win by 1 goal and 7 tries to 3 tries.
Walter was elected captain to succeed Tommy Bagwell for the 1892-3 season, and he led the Club to a record of Played 30, Won 16, Lost 11, Drawn 3; playing himself in 26 games, and scoring 3 tries. However, this season was effectively his swan song for Gloucester, because he moved to Plymouth and from then on played for Devonport and Devon.
However, he did play one game for Gloucester in the 1893-4 season, away at Leicester on 7 October 1893, and another in the 1894-5 season. That final game was against Kent Wanderers at Kingsholm on 27th December 1894, and Walter bowed out with a try. The match report records that the second half started as follows: "After the usual interval, the visitors started the second portion, and almost immediately W George was prominent with a splendid run. The ex-Gloucesterian got to within 20 yards of the opposing goal, when he passed back, but it went astray. Bourne, however, dashed up, and nearly succeeded in carrying the ball over. A scrum five yards out gave George possession again, and handing off several opponents in grand style he scored an exceptionally fine try." This brought to a close a distinguished career, during which Walter made 146 appearances for the Club and scored 26 tries; although he usually played at half-back, he stood in elsewhere as both forward and back when needs must.
In 1895, Walter married Constance Louisa Clutterbuck, the daughter of Enoch Clutterbuck. Enoch was a builder who won various contracts with the Gloucester Football and Athletic Ground Company, which owned Kingsholm – he erected fencing on the new ground in 1891; and the following year purchased the 2 cottages, stable, etc, which still stood in the middle of Kingsholm, and demolished and removed them so that the pitch could be moved from the western end of the ground and re-laid roughly on its present alignment; as well as building the new pavilion for £370-10-0.
Walter returned to Gloucester in retirement, and died there towards the end of 1945. The following obituary was published in the Citizen:
"FORMER CITY RUGBY CAPTAIN
DEATH OF MR WALTER GEORGE
The death has occurred at 34, Oxstalls Lane, Gloucester, of Mr Walter George, a former Glo'ster rugby captain and contemporary with some of the finest players who ever represented the city. Mr George, who was 78 years of age, was away from Gloucester for a number of years but returned to the city on retirement and took up his residence in Oxstalls Lane.
He was a member of a well-known family in the Barton district.
Well over half a century ago – 57 years ago to be exact – the name of Walter George (writes WB) loomed largely in rugby football circles in Gloucester. For six seasons my old friend rendered signal service on the playing field for city and county, and figured in some of the most brilliant and exciting games in the history of the club.
It was in the late eighties Mr George was drafted into the Gloucester senior team from a local side (Ryecroft) to partner S A Ball at half-back, and the move was attended with so much success that the pair set up a combination which gained for them a great reputation comparable with the best club players in the country.
Season 1888-9 will be recalled by old followers of the Gloucester team as producing some grand performances, chief of which perhaps, were the great struggles with Cardiff. Four fixtures were arranged for that season, and after playing three drawn games, with only one try each scored, the City defeated the Welshmen in the final meeting on Cardiff Arms Park by 2 goals (1p) 1 try to 1 goal 2 tries – 10 points to 9. [A try only counted two points in those days] R Grist and G F (Dicky) Dere scored the tries for Gloucester, and T G Smith (captain) converted one and kicked the penalty goal.
Tremendous interest was centred in the match, and I was one of some 2,000 Gloucester football enthusiasts who made the journey to Cardiff to witness this memorable triumph. On the return home the victorious team was met by a band and a large crowd, and the players were carried shoulder high through the streets. Yes, football fever was pretty high in the old city in those far-off days.
In the same season Gloucester defeated Newport by a try (obtained by Walter George) to nil, Swansea by 3 goals 2 tries to 1 try, and drew with a powerful London XV which included A E Stoddart (famous England footballer and cricketer) one try each.
Mr George was also a member of Tom Bagwell's successful team of 1890-1 – the last team at the Spa – when the side only lost two games (Swansea and Penarth) as against 21 wins and three drawn games, with an aggregate score of 27 goals 47 tries against 5 goals 12 tries. Cardiff were beaten twice, and victories were also recorded over Swansea and Llanelly on the Spa ground.
In 1892-3 Walter George was honoured with the captaincy of the team, but the following year he removed to Devonport, where he played for Devon Albion and was also capped for DevonCounty. He had previously made appearances for Gloucestershire including the match against the Maoris – the first overseas side to tour England – in 1889."
[I am grateful to Chris Collier for providing Walter's playing career statistics, and to John Cowen for his research on Walter's family history.]