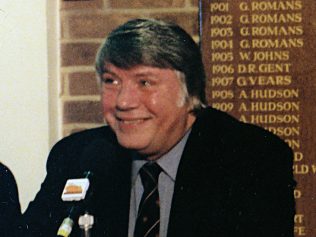 It is sad to receive the news that Alan Brinn died on 9 February 2022, at the age of 81.
He was a Gloucester legend. He holds the record (probably forever) for the most appearances of any Gloucester player at 574. From the time he played his first game on 10 September 1960 against Lydney, Alan was a permanent fixture in the second-row, although he did play some games in the back-row, and even one occasion as a prop! He was powerful in the scrum, and a strong carrier around the field. He won 51 caps for Gloucestershire, and played in six successive County Championship finals from 1970 to 1975. In 1972 Alan won three England caps. He played for the Western Counties against the Springboks in 1969, Fijians in 1970, the All Blacks in 1972, and for the South & South-West against Australia in 1973.
Alan was born on 21 July 1940 at Ystrad in the Rhondda Valley. He played his first club rugby for Hereford, before joining Gloucester. He scored a remarkable try against Pontypool in 1963. Gloucester kicked-off and Alan set off to support. By the time he reached the try line the Pontypool players couldn't decide how to deal with the ball. Alan dived forward and scored his try, to wild acclaim from the Shed. He was in the Gloucester cup-winning team against Moseley in 1972. He was a permanent presence from 1960 to 1977, when he stepped down to captain the United. But he still played a few more games for the first XV, until his final appearance as a replacement against Plymouth Albion on 10 November 1979.
On his retirement Alan became club chairman, and helped the club during the difficult transitional stage to professional rugby.
You can read his Player Profile here, and an expanded version will appear in our latest book, "Gloucester Rugby – The Players", which we hope to publish by the end of the year.