Players' Association Race Day at Stratford Races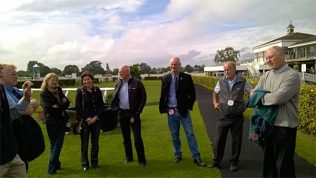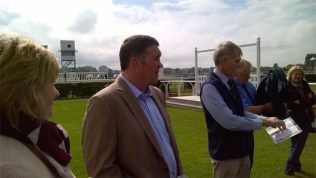 Former Gloucester Captain Keith Richardson showed his fellow former players the way to "back the horses" at Stratford-upon-Avon Racecourse on Monday 14 September 2015.
Fourteen players and wives enjoyed the day out at the local racecourse. Despite visits from top jockeys Aiden Colman, Ritchie McLernon, Tom O'Brien and Grand National winner Darryll Jacob, only two winning tips were received. However Richardson backed the last two winners to overtake Ronnie Etheridge who had the lead in the tipsters' table until the fourth race. Another former Captain, Richard Smith, displayed his knowledge of the Equine world (having visited the Training yards of James Fanshawe at Newmarket the day before). However his tips kept finishing in second place.
Second Place was a great result for Paul Williams as his 2 year old horse in training with Amanda Perrett ran in the opening race at Brighton. Most of the former players had taken Paul's advice and had an each way bet on his filly, and she obliged accordingly at 12/1. This meant most of the boys started in credit. Sadly only a few finished that way! Malcolm Preedy finished towards the bottom of the table, but his excuse were that the horses he kept selecting appeared to be NON RUNNERS. What else would you expect from a Tight Head ! … (Which side did Richardson play on?)
A big thank you to Stratford Racecourse for looking after the Former Players, and it was agreed that a similar visit should be organised for next year.