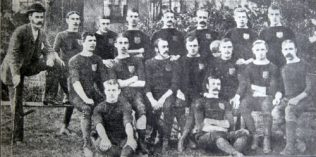 Frank Brown, holding ball, back row, 3rd from right.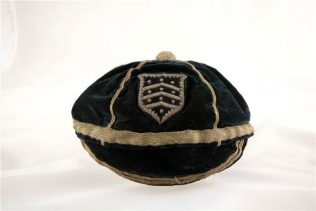 Photograph courtesy of his grandson, Cedric McMillan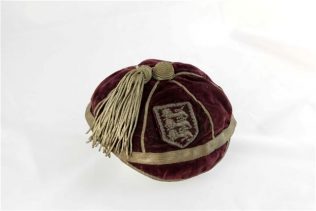 Photograph courtesy of his great grandson, Cedric McMillan
The Gloucester team went through the 1882/3 season unbeaten, with 14 matches played, 11 won and 3 drawn. They were dubbed the Invincibles. At the time, a try did not count as a score, it merely allowed the chance to "try" to convert it into a goal. This was fortunate for Gloucester – having beaten Swindon Rangers by 3 goals to nil away, they were held to a draw at home with Swindon scoring the only try of the game. The scoring system was changed the following year, so that tries counted as a score.
This Invincibles season saw the first fixtures against Cardiff, Gloucester winning at home by a goal (and 5 tries) to nil, and drawing away (a try apiece). Newport, playing 8 current Welsh internationals were defeated by a goal (and a try) away, and a no score draw was played out at the Spa. Clifton were beaten for the first time in 6 attempts by a goal (and 4 tries) to nil, and the double was completed over Bath by 2 goals (and 4 tries) to nil at the Spa and by a goal (and 2 tries to one try) away.
J F Brown led the team in his seventh and last season as captain and half-back. George Coates, a labourer at the Wagon Works, was the first working class member of the Club, and the leading try scorer with 11; Jimmy Boughton came next with 8 tries; both were three-quarters. This remains the only season in the Club's history with no defeats.
The team photo shown here is dated 1882, and shows the team in their blue strip with the City Arms badge at the Spa in front of the pavilion used for both rugby and cricket.
The only caps known to have survived from this era belonged to J W Bayley, a forward in the Invincibles.