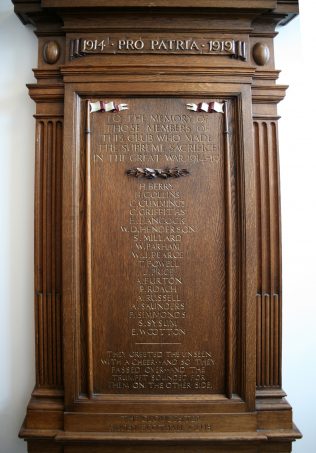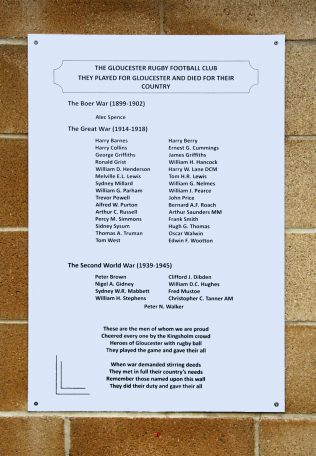 As this website has grown, we have gradually added ever more material relating to the Club and its players during wartime. Inevitably, this material is scattered across the website under many different categories, and it is well-nigh impossible to re-order these, so instead we've provided links to these items, below.
At the end of the Great War, the Club decided that they wanted to erect a memorial to those players who had lost their lives, and after advertising their plans in the Citizen and asking the public for information, they came up with the names of 18 players. They produced a memorial board with these names on it, and this was initially mounted above the door leading out from the changing rooms to the pitch. In 1983, when new changing rooms were constructed under the main stand, the memorial was moved there, and in 1997 the board was refurbished. When the new stadium was built in 2007, the memorial was moved back to the Lions' Den.
Since that time, Martin and Teresa Davies carried out a great deal of research into the Club players who were involved in the Boer War, First World War, and the Second World War. They published their findings in their book They Played for Gloucester and Fought for their Country. Their thorough research in fact established that one Club player lost his life in the Boer War, 30 players in WW1, and 9 in WW2.
These names were reflected on a new war memorial that was unveiled at Kingsholm in September 2013 by Lieutenant-General Tim Evans, Commandant of the Allied Rapid Reaction Corps at Innsworth, and by the then CEO of Gloucester Rugby, Stephen Vaughan. This memorial is located on the outer wall of the South Stand, next to the entrance to the Club Reception.
Gloucester Players and the Battle of the Somme
BBC – Gloucester Rugby Club: Great Players in the Great War
Gloucester Rugby Club New War Memorial Unveiling
They Played for Gloucester and Fought for their Country
Subsequently, Martin and Teresa discovered that two further Gloucester players – Edwin Lovegrove and Harry Ricketts – had also been killed in the Second World War, and it is intended that the memorial plaque should be updated to contain their names.