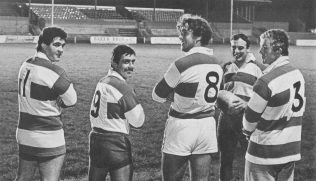 Across the road from the ground is a pub, the Kingsholm Inn, graced with a sign depicting a Gloucester player [is it still?]. He was, in my time, wearing blue shorts, a 'proper' jersey, such as is now only seen on the 'Cherry Pickers' and graced with the number 9. He was a hooker who always reminded me of Mike Nicholls, because then things were different.
Clubs numbered or lettered their players as they felt fit and proper. Our deadly enemies and best friends Bristol used letters starting with A at full back. Tigers, just to be awkward, had their front row as the ABC club. England, and most other clubs, had 15 for full back. We, naturally, were different, we had 1 for full back and for years had no number 13. Charlie Dunn always wore number 14 at blindside so this made open side 16. Peter Ford is the first player I remember to carry 13, but of course he feared neither man nor superstition!
Then it was all change, the 'Higher Authority' aka Twickenham decided we all had to be the same, individuality was not a good thing, [has anyone noticed that this applies to a lot of the rugby these days?] so our 13 is now a centre like everybody else. I don't think it bothered us greatly, we knew our own men and who the others were was irrelevant providing they were suitably flattened [this is a gem of parochial thinking]. It however left its mark, our  hooker guarding the Kingsholm Inn was instantly transformed into a scrum half, probably still reminiscent of Mike Nicholls, but nevertheless socially engineered into a different world.
Are there any more Ancients [aka Silly Old Fools] out there who are saddened by the fact that more and more things are now stereotyped?! Incidently I often wondered why the above pub was years ago known as the Jockey; it seems that before its current right and proper use our ground was some form of horse racing circuit.