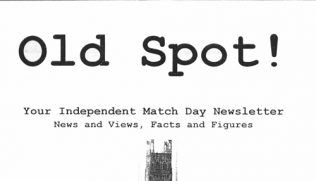 OLD SPOT AND THE KINGSHOLM CHRONICLE
The Kingsholm Chronicle, the first website dedicated to GRFC,  was launched by Steve Hawker in Sep 1996 using the glawster.demon address. After a short time it moved to its own domain, www.kingsholm-chronicle.org.
At this time the club, along with many other top clubs, had embarked upon a two year deal to make use of a programme produced by Pro-Mag, which turned out to be unpopular amongst the Gloucester fans, especially as the first edition heavily featured Bath! One long-term fan has confirmed to us that as a result he didn't buy an official programme again for those two years.
Steve, encouraged by Andrew Harley, decided to produce a more Gloucester-oriented programme, and so Old Spot was born. He tells us that he had some great contributors and a large bunch of willing volunteers to print, staple, fold and then sell the programmes. He collected the printed pages on a Friday, and that evening they would assemble 500 copies in his kitchen. The first edition was free and at 50p a copy the other seven issues all sold out.
Sadly he was unable to produce any Old Spots for the following season, but did manage to keep the online Chronicle going. Just before the 98/99 season kicked off, the club asked him to make the Chronicle the official club website, and also asked him to jointly edit a new official club programme with Andrew Harley.
After a year of this, Steve decided to concentrate solely on the Chronicle, which he continued to run for two or three more years, before handing it over. Notable "firsts" for Old Spot and the Chronicle were:
first live coverage of a rugby match in the world (Gloucester v. Bristol, the final home game 1996/97 season) which was featured on the BBC's Rugby Special and Sky Sports.
first rugby website to feature video clips, sometimes the same day.
fantasy rugby (he called it FXL, Fantasy Tens League, because it was a ten-a-side concept).
same day coverage from Europe when uploading from a borrowed mobile was all anyone could get.
a crossword competition where the winner actually got a player's jersey (Steve Ojomoh's) and 50 signed, numbered copies of the 125th Anniversary book.
Steve tells us "But above all, the KC and OS showed the club that fans really care and want the best for their team…It was fun and a great time was had by all".