Gloucester Up for the Cup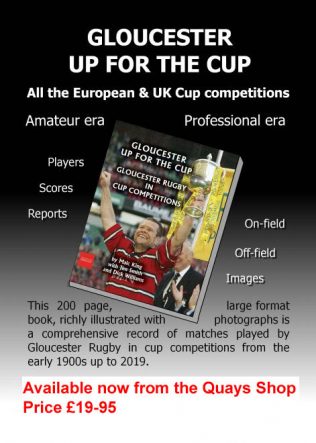 Volume 3 of the Official History of Gloucester Rugby
Written by Malc King with Jim Smith and Dick Williams
This edition pulls together reports, scores and statistics for all of the Cup matches played by Gloucester Rugby from the early 1900s up to 2019. As such it covers both the early amateur and the professional eras.
From the earliest days of the County Cup in the early 1900s to the Premiership Cup and the European Challenge and Champions Cups played in the 2000s, all are covered. Add to that the Sevens and Tens competitions played over the years and you've got the lot.
Can you name the 16 Cups that Gloucester Rugby has won? If you can't, then this book will give you all the answers.
Like the two earlier books, Kingsholm, Castle Grim, Home of Gloucester Rugby; and Representative Rugby at Kingsholm, this is a large format book containing more than 200 pages. It is liberally illustrated with action photographs as well as portraits of iconic Gloucester players.
The book, produced by the Gloucester Rugby Heritage Charity, is now available again from the Club shop at the Quays, at a cost of £19.95. As a Registered Charity we aim to offer books at an accessible price, and it is being sold at this price simply to cover our production costs.