Obituary of J W "Down 'em" Bayley GOM & 1882-83 Invincible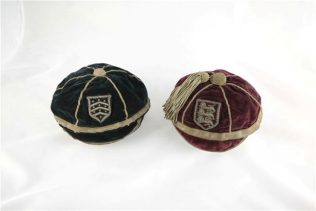 Photograph courtesy of his great grandson Cedric McMillan
Obituary Gloucester Citizen dated 21.10.1948:
Former Rugby "Invincible"  
DEATH OF MR J W BAYLEY
Mr John William Bayley of Grey Friars House Gloucester a noted Gloucester sportsman of 60 years ago died yesterday in his 87th year.
Proprietor of the wine & spirit business in Greyfriars which his uncle founded more than 100 years ago Mr Bayley had taken an active part in the business for over 70 years.  He was the oldest indentured wine merchant in the country.
He was attending to his business until ten days ago when he became ill with heart trouble from which he did not recover.  He had previously had an illness in the Spring and three months ago the death of his wife did much to impair his health.
Always keenly interested in sport, Mr Bayley in his youth was a Rugby player of great ability and was in the famous "Invincibles" team of 1882-3.
He was the G.O.M. of Gloucester Rugby and in his playing days was known as "Down 'em Bayley" because of his prowess in hard low tackling.
Throughout his time he followed the fortunes of the Gloucester club with the keenest enthusiasm.  He served on the committee and was a regular spectator at Kingsholm right into the war years.  When it became dangerous to his health to attend matches, he spent many Saturday afternoons listening to matches on the radio.
Oldest Old Cryptian  
Rugby was not his only sport, for as a young man he was a member of the Gloucester Rowing Club crews and won several cups.  He also had trophies for shooting and was an original member of the Kingsholm Tennis Club.
The oldest old Cryptonian in Gloucester and probably in the country, at the time of his death, he had an unbroken family connection with the CryptSchool dating back well into the 18th century. His father and grandfather were at the school, which he left 73 years ago, and his three sons were educated there.  He was president of the Old Cryptians club in 1923 and for 11 years was hon. treasurer.  He was also made a life member, a very rare honour.
Among his other activities Mr Bayley was one of the hon. cathedral stewards, and was a founder and first commandant of the Gloucester Sea Cadet Corps. His politics were Conservative and he took them seriously, holding office in the Southgate ward as chairman.
He leaves a daughter and two sons.