Gloucester Former Players v. Adrian Davies Lodge of Rugby Cricket Match, Sun 2 Jun 2013.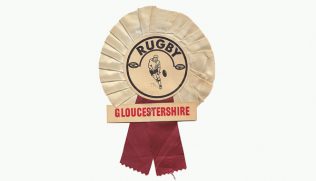 That the match took place at Phil Pritchard's pitch (it's my ball so I'm captain syndrome?) is just about the only 'fact' to come out of this excellent social occasion. Temptation to call it a sporting occasion was definitely not an option.
Phil had managed to make up a set of local rules for the game that baffled everybody –  including himself. The result, after hours of taking in the sun and enjoying the views to the Forest across the Severn, was no clearer at the end than the rules had been at the beginning.
The Glorious Glosters were named before the encounter as: Derrick Morgan, Dave Spencer, Jack Spencer, Fred Reed, Malcolm Preedy, Bob Timms, Jerry Herniman (possibly sick), Harold Symons, Eric Stephens, Mike Fuller, Gary Little, Mike Curran, Keith 'Wilf' Nicholls and, making an acclaimed and popular appearance, Nigel Jackson.
Tank Curran failed to find the ground but he might have died laughing if he had appeared when Eric Stephens bowled some devilish underarm throat balls.
There were at least two hamstring injuries to Fred Reed and Eric, though how you can get injured bowling underarm baffled all and sundry.
J.V.Smith batted for the Masons and looked considerably younger than his eighty-ish years, but his gallant efforts were to no avail. It is alleged that the Former Players hit the winning runs with four balls to spare and the heroes of the hour were Eric Stephens and Bob Timms. They had managed to beat the opponents' 213 score.
This story will run forever because nobody really knew what was going on. The combination of old age, runners, over complicated rules, bucketloads of Pimms and runners for geriatric batsmen kept the pot boiling nicely.
In the end both teams might claim a victory so the inevitable replay will no doubt be on the cricketing horizon.