Players Association News - April 2019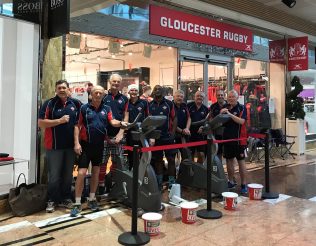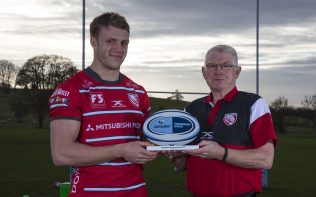 Static Cycle event raises £600 for charities
At their static cycle event prior to Christmas GRPA raised just under £500 by way of bucket collection on the day after which GRPA made the total up to £600.  Of this 2/3rds (£400) went to The Fold (Martin St Quinton's Charity in South Africa) and 1/3rd (£200) went to Gloucester Rugby Community Charity.
GRPA members who took part are shown in the picture: from left to right. Malcolm Preedy, Paul Williams, Dave Watling, Philip Pritchard, Derrick Morgan, John Gribble, Fred Reed ( Organiser and GR Club President), Bob Clewes and Ron Etheridge.
GRPA Secretary presents Player of the Month Award
As well as being GRPA Secretary Ron Etheridge is one of two Gallagher Rugby Ambassadors for the club; the other being Stadium Manager Dave Balmer.  In December Ron was invited to present Ollie Thorley with the Gallagher Rugby Player of the Month award for November 2018.    Ron and Ollie can be seen in the photograph above.
GRPA members attend a Hartpury match against a former rival
On 30 March 2019 a group of GRPA members attended Hartpury's match against Bedford.  As well as watching the match the visit included a lunch.    The match was a tightly fought affair with Hartpury running out the winners by 28 points to 26.   GRPA try to select their visits to Hartpury when they play teams who the GRPA players themselves used to play against.
For more details of any of these, or other GRPA events, please contact Ron Etheridge.