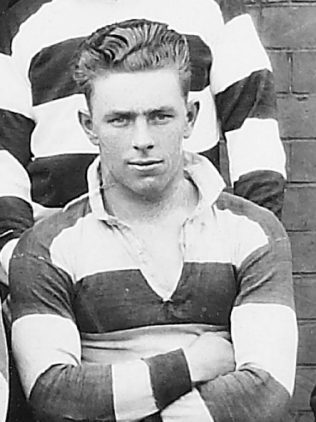 The ABBEY Family: Father and son Francis (aka Frank) Arthur Abbey and Francis Leslie Abbey
Francis (aka Frank) Arthur Abbey was born 31 August 1870 in Gloucester and following in his father's footsteps became a Millwright at one of Gloucester's flour mills. He married Edith Griffiths at Gloucester on 11 January 1902 and together they had four children including Francis Leslie Abbey. He made two appearances at half-back for the Gloucester First XV in the 1893 season and kicked 3 conversions for a total of 6 points. He died in 1957 at Cheltenham aged 86 years.
Francis Leslie Abbey, the son Francis and Edith Abbey, was born on 17 February 1904 at Gloucester. He married Irene Ethel Lodge at St Paul's Church, Gloucester on 10 May 1930 and several reports appeared in the local newspapers regarding the 'Gloucester footballer's wedding'. The couple had two daughters. Similar to his father, he was a half-back, although sometimes played on the wing, and made 147 appearances for the Gloucester First XV between 1925 and 1931, scoring 22 tries for 66 points. He also won one Gloucestershire County cap. He died on 30 March 1985 aged 81 years whilst living at Widden Street, Gloucester.
Go to Abbey Family Tree (Pedigree)