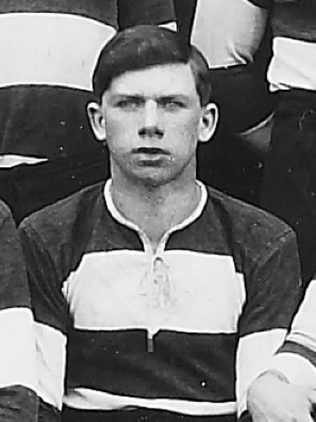 The STONE Family: Brothers Tom Stone, William ('Billy') John Stone and Samuel Stone

The sons of William Stone and Mary Anna Humphries who between them had eleven children. Their father had initially worked as an Engine Driver in a colliery in Glamorgan before moving to Bream in the Forest of Dean where he remained for the rest of his life; he was buried at Bream in June 1921.
Tom Stone was born on 17 April 1891 at Whitecroft in the Forest of Dean and became a blacksmith and was employed at the Lydney Tin Plate Works. He married Eveline Howells at Lydney in 1919 and had six children. He played rugby mainly for Bream RFC but as a full back played two games for the Gloucester First XV and one game for Gloucester A team in 1919. He was also awarded one Gloucestershire County cap. As Tom made his debut for Gloucester, his younger brother Billy Stone left the Club for the Northern Union. Tom died on 25 June 1970 at the Gloucestershire Royal Hospital aged 79 years.
William ('Billy') John Stone was born on 28 September 1897 and lived in Bream before moving to Hull where he was employed as a Bakery Despatch Room Checker. However on 15 February 1922 he married Gertrude Brown at Bream when he was listed on the marriage banns as a Professional Footballer. Billy, a centre who mainly played for Bream RFC, played 4 games in 1919 for the Gloucester First XV and scored one try, before he joined Hull Football Club in the Northern Union; the Hull FC talent scouts had spotted him whilst he was playing for Bream. As a 'Rugby League' player he represented Hull F.C. 222 times scoring 149 tries between 1919 and 1927. He played in the 1922 Challenge Cup Final but Billy's failure to convert Hull's last minute try meant that Rochdale Hornets lifted the cup. Billy also represented England R.L. on 6 occasions between 1921-23, scoring 6 tries and Great Britain R.L. between 1920-22, winning 8 Lions caps against Australia and New Zealand and scoring 8 tries. Billy died in 1976 at Hull aged 79 years.
Samuel Stone was born on 14 September 1902 at Whitecroft in the Forest of Dean but resided for most of life at Bream. He married Chrissie James in 1932 and the couple had two children. Samuel was a Tin Plate Worker who worked mainly in the Annealing Department. On 4 November 1922 whilst still a Bream RFC player, he made his debut for the Gloucester First XV. As a centre he played 31 games between 1922 and 1923, scoring ten tries. He was also awarded one Gloucestershire County Cap. He died on 2 May 1977 at Bream, aged 75 years.
Go to Stone Family Tree (Pedigree)